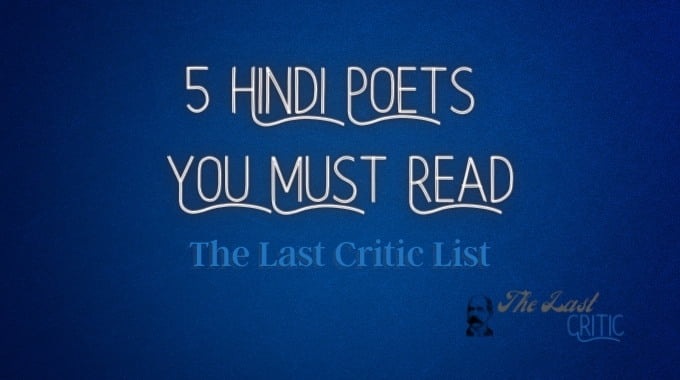 5 Hindi Poets You Must Read – A List
Hindi literature cannot be compared to literature in any other language. Hindi literature before 1947 and a few years after our independence from the Britishers who were ready to do anything to destroy, distort and destabilise India just because they could not bear the radiance of the great civilisation and culture, the Hindi language and literature written in this language, with a few exceptions, were just incomparable to literature written in any language of the world except for Sanskrit which will reign supreme any day. Poets like Jayashankar Prasad, Dinbandhu Suryakant Tripathi Nirala, Maithili Sharan Gupt, Mahadevi Verma… there are countless names had we known all those and had we cared for the great civilisational war that our great poets bought not only physically but also in various proxies including negligence by the jaundiced literary historians and historians in general. Well, I am writing this article to let you know that there are poets you must read if you want to taste the nectar of Hindi poetry that is simply incomparable! Here is the list: 
Jaishankar Prasad: Jaishankar Prasad will always be remembered by the admirers of Hindi poetry for many things that he did. Chandragupta, Kamayani, Aansoo, Mamata and so on… His verse was dedicated to alleviate the mood of the readers, inspire nationalism, arouse emotions and admiration for art, humanity and traditions. You can read any of his poems and you will feel the above-mentioned elements yourself. So, if you are willing to read some Hindi poems, begin with Jayashankar Prasad.
Suryakant Tripathi "Nirala": Any discourse about Indian Hindi literature will be devoid of matter and fact if we exclude Nirala from it. Nirala was not only a poet but also a sketch artist of talent. However, his poems, perhaps, were more than sketches made by any artist in the world – emotions flow in his works from the top to the bottom and readers sway with the depth of feelings, thoughts and messages embedded in the lines of the great Hindi poet of India. You MUST read Nirala if you want to understand how Bhakti, RashtraBhakti and Traditions can shape a poet and the very poetry. 
Bharatendu Harishchandra: If you want to discover the roots of Hindi literature in India (with modern problems, modern solutions and modernism in general), you should read the works in poetry by Bharatendu Harishchandra. He was from Varanasi and he experienced the agonies of modern society very closely. His poetry was for the upliftment of the fallen spirits of India. You will feel, in his poetry, an earnest need for order, unity and discipline to reach higher goals. He was also a religious literary figure who used literature to extol his religious and the Sanatan values. 
Atal Bihari Vajpayee: His political inclusion may have been the reason for a literary exclusion and an exile of a great Hindi poet of India who could have been in the same league in which poets like Dinkar and Gupt are. However, readers know it already and they have been acknowledging the poetic prowess of this nationalist, flag-bearer of Hindu values and civilisation in literature. Atal Ji does not need any expert certificate from any elite groups of critics because he is popular among those who understand poetry. If you want to understand the Indian culture and Indian civilisation in verse, do read him. Also, you will find the forceful commemoration of a glorious past and a celebration of the wonderful present in his works. 
Sachchidananda Hirananda Vatsyayan Agyeya: Popularly known as Agyeya only, he was one of the few poets in the late 20th-century who could get the attention of a critical poetry reader like me. His urge to experiment with the form and fact of his fiction was unmatched and that is why he could pack 2 or 3 lines of his verse with a force that was unparalleled. His poems were experimental, unconventional, irregular but forceful, impactful and thoughtful. To taste life in uncertainty, read Agyeya! 
List by Manish for The Last Critic