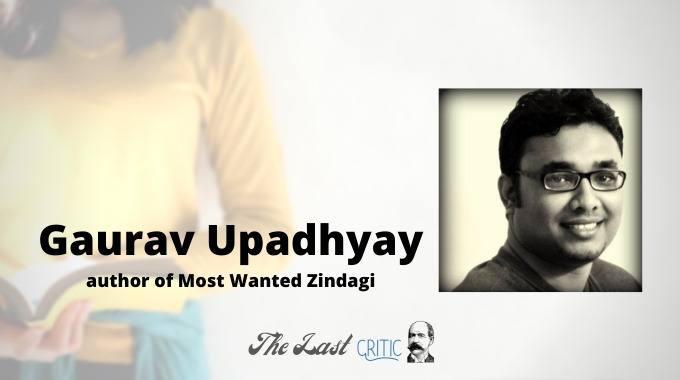 Gaurav Upadhyay – know the author of Most Wanted Zindagi
Many Indian authors are coming with many new ideas and themes. They are not only enriching the horizon of Indian writing but also adding many colours to the wheel of Indian literature that is spinning for many centuries. Gaurav Upadhyay, an Indian author, settled in Singapore, writes mainly in Hindi and he uses a very contemporary style, connecting language and the latest technology to communicate with his readers, fans, audience and others who write. His latest book, Most Wanted Zindagi, comes with randomly organised chapters discussing various issues that we face in our lives, go through and live.
Gaurav's popularity on platforms like Instagram and Facebook are mainly because he can easily connect with youths. He uses simple language to communicate his ideas. He uses very simple, easily relatable and significant (at the same time) images and analogies to drive his ideas home. Modern readers demand simplicity and this is quite evident. Gaurav's mixed approach, an amalgam of prose and poetry, makes his readers curious and more interested in his content. He writes with a conviction, standing slightly high but not so distant from the viewpoint of his readers… and this approach makes his readers comfortable, at home and confident in understanding various things from the author.
In his latest title, Most Wanted Zindagi, the author talks about various aspects of life. In a chapter titled 'कुछ न कुछ तो छूट जायेगा' Gaurav makes it very simple for his readers to understand how to accept our past, reconcile and move ahead without keeping the burden of the past over one's shoulder. The author has used verse, prose and wonderfully simplified imagery coupled with a humane tone to communicate his ideas… otherwise impossible to convey without using loaded metaphors and philosophy that tends to become jargon… this is the strength of Gaurav whenever he writes something – be it a post on Instagram or a book.
In poetry, he has done quite well for the community promoting Hindi in Singapore as well as globally. 1/2 filter Copy is a poetry collection by Gaurav offering 40 original poems by the author… written in a time span spread over 10 years. In poetry also, the author uses very simple language and tries to onboard youths, young readers and those who want to understand, read and enjoy Hindi without feeling complicated or alienated. Gaurav proposes the use of simple language. He wants more and more readers to read Hindi and he is doing whatever it takes…
You can learn more about Gaurav Upadhyay as an author, as a poet, as a speaker and as a social media influencer by visiting his website. Here is the link: https://upadhyaygaurav.com/
Written by a contributor for The Last Critic