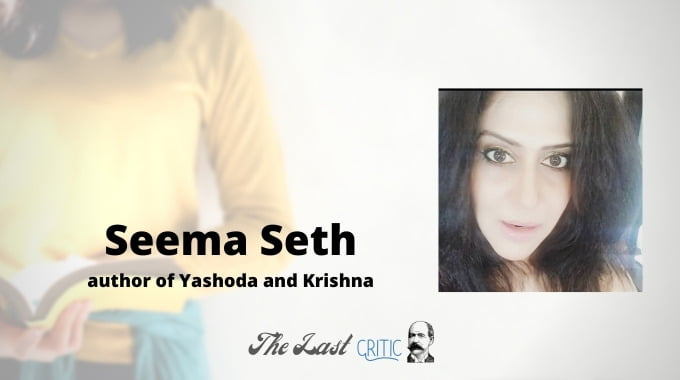 Seema Seth says, "I believe I am the spitting image of Krishna". Meet the author of Yashoda and Krishna
Reading mythological fiction inspired by the myriad world of Hindu scriptures always fascinates me. Many authors have impressed me with their skills and selection of themes. Prominent among them are Amish Tripathi and Ashwin Sanghi. If I have to choose one among these two for the top spot on my list, I will put Ashwin there. However, this article is about neither of these two. I have recently read the novel Yashoda and Krishna, written by the novelist Seema Seth. It is also a novel inspired by the life of widely worshipped Hindu God Krishna. However, the book has subtle differences from the other titles you might have read in this genre. And this difference inspires me to write about the writing style and philosophy of the author. 
The author, Seema Seth, comes from a family of filmmakers, and she chose her career as an author, and she did it consciously. It was no accident, as happens in the case of many authors. She emphasises authenticity in her stories. And because she puts weight on this aspect, it is necessary to know her thoughts on Krishna before you can understand more about her writing. 
"Through my own life experiences, I believe I am the spitting image of Krishna."
The author identifies herself with Krishna, the God she writes about in her novel. She has tried to interpret the miraculous life of Krishna from mother-son perspective. And that's why she has given it the title Yashoda and Krishna. However, the author has a very distinguished opinion about the genre of her book. Since the book draws its inspiration from ancient Indian scriptures, it can meet the criteria of a non-fiction book. At the same time, she does add elements of fiction to it. In her own words, Seema Seth tells about the genre of her book: 
"My book is a fictitious exaggeration of the organic story. It meets up the gauges of both fiction and non-fiction categories. There are a lot of true, real-life experiences for one to learn from and adapt in life; especially the motivational quotes/episodes."
Unlike many authors who want to have the credit for a story that comes from other sources, the author revels that she could be able to make an existing story into something that could inspire the readers. It is something that tells much about the qualities of an author.
Seema has previously published widely-read works like El Dorado, When Rahul Met Sunshine and Lucky Boy. However, her latest work, Yashoda and Krishna, offers a very distinct narrative – a humanised form of Krishna and his leelas that a reader could relate to easily. The style of conversation in the novel is simple, in the way that we mostly follow, and something that compels a readers to know more about Krishna, the character rather than Krishna as we know him, a God. The author has wonderfully presented many miraculous acts that Krishna performed, albeit in a reformed or simplified version. She has masterfully worked on the language, the entire discourse and the versions of Krishna's Leelas that origin in the world author has created. It is what authors do! 
Mythological fiction has reached in advanced stages in India and we will keep seeing works in this genre. Seema Seth's contribution to this genre will take it further in the right direction. I'd love to see more of her works in this genre – perhaps a version of Krishna and Radha's love. 
You can read the book by Seema by getting a copy from Amazon India. Click the link below: 
Buy the novel from Amazon – click here 
Feature by Vyom for The Last Critic