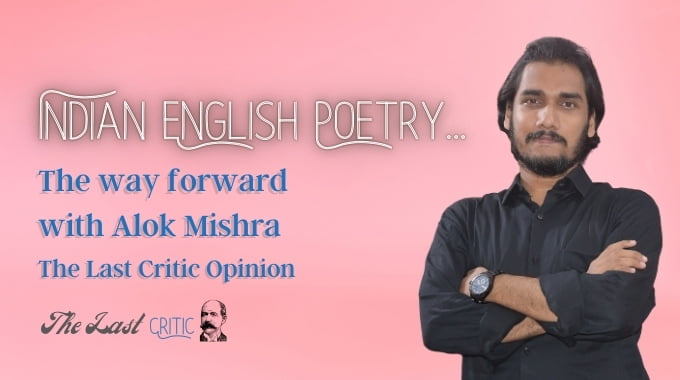 Poetry should be long-lasting, if not forever – Alok Mishra discusses poets and Indian poetry
Indian English poetry has always been in a state of the subconscious, if not unconscious. However, there have been patches or phases in the journey of Indian English poetry where readers could see an effort by some of the poets who did their best to arouse the state of consciousness. Attempts made by Toru Dutt and even Swami Vivekananda, carried forward by Tagore and then taken to an all-new height by the poet-philosopher Aurobindo – poetry did travel with some good depth, loaded with the ideas that are fully synchronised with Indian conscious. Today, observing critically, where does Indian English poetry stand? What does it symbolise? What are the ideals? Where is it looking to reach? I have tried to discuss all these points with a contemporary Indian English poet, Alok Mishra. Alok Mishra has written two poetry collections, Moving for Moksha and 13 Untitled and Weird Poems.
"Poetry should be written with permanence in mind and values. It should not be temporary. Well, as a poet, you can deal with issues that are in your mind and heart. However, you cannot go on and create your oeuvre out of your emotions and thoughts. You have to look for the ideals, the ideas, the landmarks of your culture, history, symbols and you have to connect with your readers… also with those whom you intend to make your readers in the future."
This is what Alok Mishra told when we started the discussion on Indian English poetry and what it might be lacking at present. As a contemporary poet, Alok Mishra feels that many other poets tend to pour out their personal likes and dislikes, emotions and thoughts, ideology and biases and many other binaries on the pages they colour with their words. And when we go through such poems, we can feel that. Though no one is in a position to censor what a poet writes, the readers must have an understanding of the things which are meant to be for long and things which will change. For example, no one would really connect with the idea of a person's personal problems in the home – it is usual in every household. However, if someone can come up with a fictional scenario that can share some ways to mend these daily issues, that might be something interesting to many readers.
We have been debating the idea of Indianness for many years now. Though the conclusion is still far away and it's rather elusive, one can certainly think what Indianness might connote to many Indians. From history to style, from religious beliefs to the memories of Kings and Queens, from the epic wars to the recent freedom struggle, from political awareness to the general psychological and philosophical approach of Indians… what India thinks is Indianness; what India believes is Indianess; what India appreciates is Indianness; what India stands for is Indianness. Discussing this very idea, Alok Mishra, not only as a poet but also as a research scholar who is working on the very subject of Indianness in Indian English poetry, believes strongly in the idea of Indianness and he also suggests that Indian English poets must do something that might invoke the interest of Indian readers in English poetry irrespective of the language barrier and emotion of alienation with the languages which was rather imposed upon us, initially.
Indian English poets, generally those who are inside India, need to do something that can represent the voice of India globally. I am not talking about a concocted or half-baked image that is being served to the world by 'esteemed' novelists with certain ideologies. The poets can do it better and they need to think, act and do something at the earliest. It will not only revitalise the interest in poetry (in English) but also help India's natural, true and unaltered image cross the boundaries.
Written by Samridhi for The Last Critic