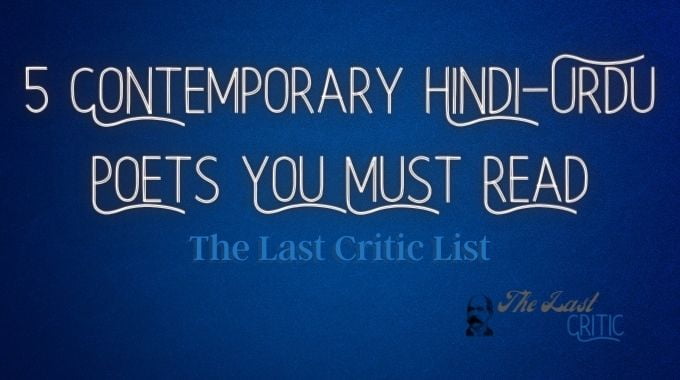 5 Indian Hindi-Urdu Poets and Shayars you must read – a list
After a long time, a positive trend can be witnessed in Hindi poetry by the Indian poets. Though this trend may have many different connotations for different readers, an average reader wants to see popularity for the literature he or she reads. Hindi literature, in India and ironically, was rather subdued and sabotaged, to an extent, amidst the rise of English literature. And now, once again, in the past decade and thereafter, Hindi literature, along with Urdu literature and especially Urdu Shayari, is gaining popularity day by day and it's giving hope to the Hindi-Urdu writers as well.
If the credit of making modern English novels famous goes to Chetan Bhagat, arguably, one must find and fix the writers who might deserve credit for the popularity of modern Hindi-Urdu poetry in India. Well, some might say that Kumar Vishwas, the rising star or established crown of modern 'popular' Hindi poetry, deserves the credit to make it famous and popular once again. There is no doubt that he has revolutionized a generation to quench their thrust of creativity. And now, we are witnessing an abundance of Hindi authors and Hindi poetry festivals. However, when there are too many to choose from, it becomes a little difficult for the readers to pick the best they could get. And I am making that a little convenient by preparing a list of the contemporary Hindi and Urdu poets and shayars you can enjoy reading.
Kumar Viswas: He can be regarded as the major architect of modern Hindi poetry. He has broken the stereotypes of writings and made it available for the commoners. His poems are more relatable and feasible in ideas and that's why readers love his poems. His poems have become so popular in recent years. The lyrics and tone of his poems are often colloquial and relatable to day-to-day life, dedicated to love and romance and easily sung. Broken hearts might find their respite in the works of Kumar and he has capitalised the same as his advantage. Koi Diwana Kahta Hai has become the milestone of his career. Most of the youths like the poems by him and his popularity has increased day by day. And therefore, without a doubt, he has made to the first place in this list!
Manoj Muntashir: He is a well-known poet and songwriter of India. Though his popularity has amassed after the superhit song Teri Mitti from the movie Kesari, Manoj Shukla (original name) has been in the industry for many years. He has claimed so many prestigious awards for his lyrics. Apart from this, he always considered himself a poet first and a songwriter later. Manoj is a romance writer whose lyrics can match the emotions of youth and couples. Most of the modern-day poets are inclined towards romantic writing. Manoj is well-versed in depicting the feelings of a certain situation. His love poems are emotional and continue with deep meanings. You can read his books and lyrics to understand his writings and also enjoy it at the same time.
Gautam Rajrishi: Though Gautam has been active in the field of writing Hindi-Urdu poetry and ghazals, shayaris, short stories for many years, he has become instantly popular after the publication of his recent collection titled Neela-Neela. He has published two collections of his ghazals, Neela-Neela and Paal Le Ik Rog Naadan. His shayaris have become famous among contemporary readers because of their penetrating vocabulary and clever use of words from common languages in which we converse. Mobile, Car, Dupatta, Party, SMS, Facebook… you can find these words along with many in his works. He connects with young readers of Hindi literature with his emotional writings and powerfully charged couplets that can offer instant insight into years of wait, intense love or separation of decades… You can read Neela-Neela to understand his verse and enjoy his shayaris.
Prasoon Joshi: Prasoon deserves no introduction! He has already crossed the stages where people need to introduce someone. He is a very famous, respected and celebrated Indian poet, screenwriter and lyricist. Most of his poems are not just monetary flashes of sparks that fade away with time, within minutes of reading. He is beyond the reach of contemporary poets' fancies and thoughts. However, this is what makes him a little beyond the reach of the common readers as well and that's why he is not very popular among the youths of the day, the biggest section of readers.  His verse depicts his intellect, emotional riches and deep, philosophical thoughts. He conveys his ideas in wonderful and rich vocabulary that many contemporary poets seldom use. Prasoon's poetry is a reflection of truth and humanity that attracts serious readers to read his works. The poems are higher in meaning and deep in thought and explore higher meanings of life.
Anamika Jain Ambar: Anamika Jain Ambar, like many other poets on the list, does not require any special introduction. Her fame proceeds her. He poetry reaches to the readers before they know her. Famous for her fiery voice and sweet lyrics, Anamika Ambar is one of the most famous contemporary women poet writing in Hindi right now. She has been active in poetry since 1997 and her works have been published in various magazines. She has authored many books as well. Her poetry tends to contain the emotions that are contemporary and popular and thus, she focuses on giving words to the things that happen around us other than writing about things which are permanent.
So, my dear readers, this was the list of contemporary Indian poets that I would want the lovers of Hindi and Urdu literature to read. I am sure you will love reading the works of the poets and shayars who have been named here. I have been reading as well as critically following contemporary literature in Hindi and Urdu in India. And I will be coming with more lists and analysis in the times to come. Until then, enjoy the current phase of changing colours and emotions in Indian Hindi literature phase. 🙂
List by Madhav Mahesh Misha for The Last Critic