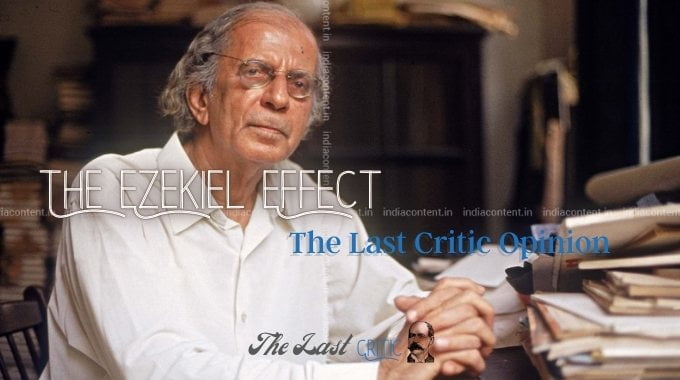 Nissim Ezekiel's poetry developed upwards – an observation
M K Naik termed him as the father figure who shaped the younger generation of poets after himself. And this is not the only appreciation that Nissim Ezekiel received in his lifetime. He has received many words of praise from critics, fellow poets, younger poets and also the readers who have been reading his poems for many decades now. However, have you ever tried to recollect some of his poems and measure the growth? Have you ever thought how did a poetic wanderer became a poetic genius and produced some of the greatest Indian English poets?
Nissim Ezekiel's poetry had a stupendous development. It grew, from being superficial and momentary, with conviction and the readers might apparently see it happening on the pages on any of his comprehensive poetry collection if they care to read one and observe. I would use the Oxford India Paperback edition as an example here because I have read that collection from the first page to the very last page. And in this book, as a reader, anyone can witness that Ezekiel begins as someone who is searching for his muse and finishes as someone who has all of it and would like to depart… a poetic renunciation that could scantly be recapitulated in his poems, sadly.
Read: Collected Poems Nissim Ezekiel (Review)
Nissim Ezekiel's poetry about the Indian riches has been most phenomenal. He, not being an Indian in many senses if we constitute the idea of nationality from one's ancestral claims, has been trying to fuse himself with the roots of India and this enigma can be felt in his poems as he grew, both poetically and intellectually. The intellectual growth can be measured by the depth of his thoughts and completeness of his imagery. The poetic growth, naturally, can be realised in the unstopping movement of his verse – flowing from one idea to another with the beauty of rhyme and lyrics. Ezekiel, however, also pioneered the modern poetry and its unapologetic style in Indian literature. In a poem titled At Fifty, he writes:
"I am ageing.
…..
… Experience, 
however real, 
is, after all, over.
I do not want the ashes
of the old fire but the flame itself." 
Though it's complicated to say that the poet might have been asserting this or saying that, it can certainly be surmised that the poet is talking about not only his age but also his wisdom. And the part where he expresses his desire to get the flame itself can certainly be marked as an idea that he might have developed over the period of time.
Whatever be the case, it is always wonderful to read Ezekiel. His verse does not let the readers rest. His images are certainly at the benchmark-best when Ezekiel has his flow flowing with its full gala and glory. You can read Ezekiel in many of his collections and you can also get the ones of your choice from Amazon India. You can click the link below to explore Amazon for titles by Ezekiel and get the ones of your choice in paper or Ebook formats. Link:
Buy Nissim Ezekiel's Books – Amazon India
An article by Parakashtha for The Last Critic