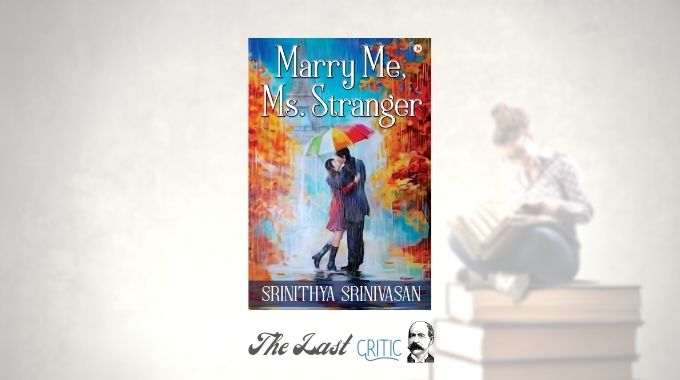 Marry Me, Ms. Stranger by Srinithya Srinivasan – Book Review
This year is not going to be remembered as the worst one… not for all but for the bookworms who have used these days of fewer outings, past lockdowns and self-isolation period to read their favourite, new and accidental books. I also enjoyed many books this year and I would like to sign off with the review of one of the novels that I liked very much. Srinithya Srinivasan's debut novel Marry Me, Ms. Stranger, published in November 2020, is a part-comedy and part-romantic novel with many other elements including social criticism as the major component. Easy language, sarcastic conversations, comic pot-shots and witty one-liners are frequent occurrences in the novel.
"I have a few conditions," I told him.
"Shoot."
"First, I will never accept you as my husband."
"I will be your husband once we are married," he argued.
And this is what you may expect when you begin reading Marry Me, Ms. Stranger by Srinithya. Witty exchanges, emotionally charged & sensitive, yet humorous conversations, emphatic female protagonist and no-nonsense modern-age novel… in short, I can define Srinithya Srinivasan's novel like this. 
What I liked the most in this novel is a very impressive, multi-faceted and versatile character in the form of Janani. Janani Iyengar is an example of all the women in this era, in India, who are very conscious about the decisions that are important in their lives. Marriage, of course, comes among the most important ones. Janani agrees to marry a person just because her parents insisted, in the first place. However, the boy doesn't show up for the marriage function and this makes Janani not only elated but also, almost, smug. Nevertheless, the joy is short-lasted as her parents decide to marry their daughter to someone she barely knows – Aman Rajpoot Singh, one of Asia's richest person and, obviously, one among the most eligible bachelors as well… Who would deny this offer, after all? JANANI DENIES THE MAN – UP FRONT AND VERBALLY! And there, the novel begins… 
The plot of this novel is straightforward… if you care to know about the main events. A rich man, adamant it seems, proposes a self-respecting woman. The woman denies saying that she cannot marry a stranger. They agree, however, to get into some kind of courtship to see whether their marriage in future might work. How will it go? How long they will continue like this? Will the woman melt? Will the boy get off his constant obstinacy to marry the woman? Emotions, romance, sentiments, sensitive issues… many things are there to read and enjoy! 
And to end this review, I would let the readers know that Marry Me, Ms. Stranger will be an ideal read for the readers of contemporary fiction… moreover, the readers who read anything contemporary will find it sensible, dedicated to a cause and very comic yet romantic. In addition to the contemporary style, you get these elements as well. For the traditional readers of English fiction in India, they might be a little joke-me-not with the language part because it's aimed to be read by youths who use the same. However, they will certainly appreciate the overall work of fiction by Srinithya because of many things – characters, themes and a sensible way of managing to offer comic relief with some seriousness in the issue being dealt with.  
So, irrespective of the kind of reader you are – traditional or contemporary, you will certainly find many things for you in this novel. You can get a copy in Ebook or paperback edition by clicking the Amazon India link below: 
Buy the novel now – click here to go to Amazon book page 
Review by Parakashtha A Mishra for The Last Critic 
Marry Me, Ms. Stranger by Srinithya Srinivasan – Book Review
Summary
A modern novel dealing with a very traditional… even civilisational issue… comic in presentation but sensible in approach. An amusement with added romance that will certainly be an entertainer!