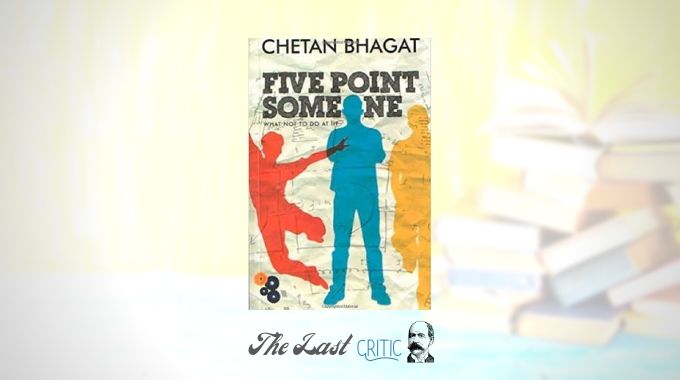 Five Points Someone – Book Review – Chetan Bhagat
Five Point Someone was a 2004 bestselling novel written by Chetan Bhagat. This novel is still being read by audiences worldwide (almost) and though I am late to the party, here is my critical review of this novel by one of the bestselling Indian Authors. I hope you will read it carefully and you will also get something out of this review that will be useful for you.
First of all, let there be no doubt at all that Chetan Bhagat is the most popular contemporary author in India. He has written so many novels but in my opinion, I will pick 'Five Point Someone: What Not to Do at IIT' as the best among the collection of his novels. Though this novel isn't untouched by its flaws, the usual and traditional Chetan Bhagat's flaws, it has content that can mitigate the faulty impressions that his techniques and other technical elements create. Only about this novel I can say with conviction that young readers can have a go without thinking too much. The author has presented vivid colours of ambitious students' aspirations and campus life. As its subtitle suggests apparently, the author has provided a different set of notions that works as a guideline on what not to do at IITs. And this is why leading book review websites in India have all praised the book. Unlike his other publications like Half Girlfriend and One Indian Girl, this novel is almost flawless.
The Book:
This is the story of three friends who are pursuing engineering at one of the prestigious institutes of India, IIT. It is worth noticing that it is a common conundrum among Indian novelists that they seek to find, in their plots, a resemblance with their upbringing, education or emotional anxieties. Chetan could not think of any other thing rather than putting his own experiences at stake for his continuing debut in Indian English fiction writing. This is good in one way and in another context, limiting his imagination because he can only write what he has been through – so, the strength and the weakness run hand in hand. He further brings the plot of the novel close to his past by settling the storyline on the IIT Delhi campus, his own alma mater.
There are three hostel mates Alok, Hari and Ryan who are more interested in cracking jokes rather than actively participating in the lectures. They fail to understand the system of IIT and settled for a bad start. Their performance is not up to the mark and they pass, somehow, with a low CGPA. This is the major theme of the novel where the author has tried to suggest whether the underperformers have a right to live with dignity or they are mostly doomed to infamous, uncalled and unjustified criticism. The story goes on and they settle with good positions in their life, the three IIT friends. Apart from this, they have their love battlegrounds as well and it is a well-known fact that Bollywood movies and modern novels cannot be done without a love story and some heroic scene by the protagonist. This is the story in a nutshell.
There are many episodes of humour and wit, sarcasm and realism, romance and ugly, crass events. However, that is the best when a reader experiences that first hand. So, I will be leaving that for the readers to find out and explore for themselves rather than reading about those in this review. You will like those episodes, be sure.
Critical Insight:
The novelist has used a first-person narrative and Hari is the one who is telling the story from his perspective. However, the novel takes almost a universal shape and the readers can get an all-round or a 360 view of the events taking place. Chetan Bhagat used to write his books in plain English and Hinglish as well to get more readers. His work Five Point Someone started a new revolution in Indian English literature and be sure about it. He brought Indian English fiction down from the high horse of ego, whim and elitism that used to be the carrier of authors like Amitav Ghosh, Shobha De and Arundhati Roy and many others who never thought about the ordinary readers… and kept pursuing awards, the fame of the first order and name among the foreigners who could somehow enlist them for some recognition in the corridors of red tape. Though this was not wrong per se, it was an unacknowledged injustice with the common fiction readers in India who wanted to read something about themselves in real terms. This is what Chetan Bhagat offered them in a PLAIN, SIMPLE and even CASUAL ENGLISH that connected with their daily lives. The language and the narration of the book are not so strong and seem to be bereaved of all the literary juice that adds to a work of fiction the thing called standard. And what was the result? The author became a bestselling novelist!
However, there are things that we need to talk about when it comes to the storyline itself. The realism of the first degree is there. No doubt! However, realism also extrapolates a few things and that is all the liberty that a fiction writer should enjoy. Still, do you know anyone who has been to IIT would take a risk as big as breaking into the strongroom and trying to alter his or her answer sheets? I don't know! Do you? These things can bring moments of thrill to the novel and give some spine-chilling experience to the readers with the carefully woven narrative but does it fit the circumstances being described? You can decide for yourself.
Moreover, the author has shown some gravity in his theme as well. It is not always true that a good student can be the best innovator as well. Learning is a process and it should be in a way that students should enjoy rather than feeling the pressure of bookish syllabi and examinations from time to time. The education system in India is not industry-ready. He has pointed out these things in a very noteworthy manner. How a student learns things in a funny way and that the most important thing in learning is practicality rather than remembering some definitions are among many things that have been highlighted by Chetan Bhagat in a forceful manner.
Conclusion:
This is a good book to be read at least one time. Though you may conjecture about the literary qualities of the novel, you don't find much space to initiate that side of your critical faculty because the novel has a very impressive storyline. So, this time at least, I will say this Chetan Bhagat work is a very worthy work of fiction! Have a read soon! You can get a copy of this novel in paperback or Kindle format from Amazon India. Click the link below and you will be taken to Amazon India where you can get the book:
Buy the novel – click to go to Amazon India
Review by Amit Mishra for The Last Critic
Five Point Someone | Book Review
Summary
Chetan Bhagat's Five Point Someone is perhaps only one by him that could be put in the serious fiction bracket without many ifs and buts. It is an achievement worth celebrating… a must-read for once because, after the first, there is seldom anything left to construe.
3.

Five Points Someone – Book Review – Chetan Bhagat