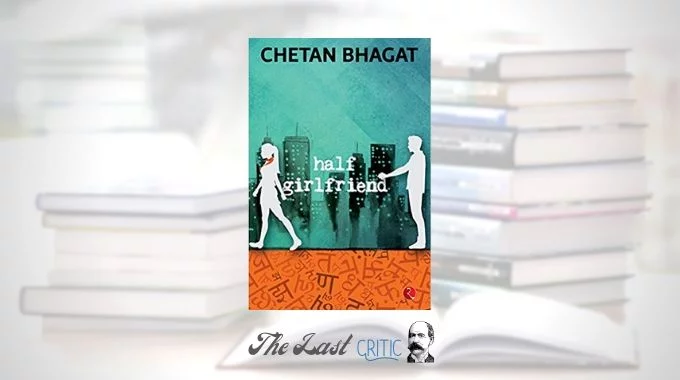 Half Girlfriend by Chetan Bhagat – Book Review
Book: Half Girlfriend
Author: Chetan Bhagat
Publication: Rupa & Co, April 25, 2017, Movie Edition
Pages: 268
Genre: Romance, Contemporary
Chetan Bhagat is very famous for his novels. However, among serious readers, he is more famous for what he does the wrong way rather than what he might do the right way. Half Girlfriend by Chetan Bhagat is a novel that broke many records or at least appeared to be doing so in newspaper PR articles. It appeared in the year 2014 when the year was reaching its cemetery. It garnered so many readers who praised it for the content. It attracted many young critics and reviewers who appreciated it for the issues and themes. At the same time, it did invite critical antitheses by serious readers and book critics who thought that the book did not have merit. Now that many years have passed and we are in 2020, facing the Coronavirus, let's revisit the novel Half Girlfriend by Chetan Bhagat. I will deconstruct the aspects. You all know the summary already. 
You can easily guess about the PR machinery and its weight if I tell you that I saw a full-page (on the front one) advertisement for this novel in The Times of India. It was unusual because that page is mostly a space for car companies, mobile companies or political advertisement. One can understand that India has entered, that very day, into the next level of publishing and writing business. And we should not forget the indulgence of companies dedicatedly working for book promotions in India as well. Was the novel worth it? NO! Did it impact sales? YES. 
We meet Madhav and Riya. They are our hero and heroine in this novel. Yes, I termed them as hero and heroine because it mostly reads like a screenplay rather than a novel. Central issues are marriage without interest and domestic violence. That is noble coming from Chetan Bhagat, ain't it? As expected, the hero of the novel has found himself (he is helpless) in a state where he becomes the butt of satire and all he could find was a half girlfriend for himself. However, Riya is a fascinating girl who meets the fate she didn't even dream of. Her marriage with a moron ends in her departure from a foreign land (after she becomes helpless and had enough of domestic violence against her). 
Half Girlfriend could be a very serious and wonderful novel if Chetan Bhagat could have dropped his marketing gimmicks and his idea of selling it as a movie instead of contributing something to the Indian English Literature canvas. Yes, fame has enough of Chetan now and he should consider donating his wit for fair causes. Poor writing and malnourished dialogues have eaten the seriousness of this novel like termites enter into the heaviest blocks of wood and eat their depth making them hollow. Useless contemporary jargons have become a part of the regular for Chetan Bhagat and he has all the liberty in the world to do so. However, it does kill what could otherwise be a tool to enhance the impact on the readers. A good theme does need good use of language to penetrate the minds and hearts of the audience. Half Girlfriend novel by Chetan Bhagat could have been wonderful (I reiterate it) with a better language, narrative and a pace that won't hurry. Chetan Bhagat, it seems, could create a novel faster than engineers of the army have built hospitals around the world. One is for humanity and the other is for amusement which it denies providing… 
I won't recommend Half Girlfriend to the readers who want to see a certain standard in fiction they read. For those who want contemporary entertainment served to them in a base format, they will certainly enjoy this book by Bhagat. Those who are still interested in reading the work can get a copy from Amazon India (and other works by Chetan as well) by clicking the link below: 
Buy the novels – click here to buy 
Review by a contributor to The Last Critic 
Half Girlfriend by Chetan Bhagat
Summary
Half Girlfriend by Chetan Bhagat is a novel best avoided. However, if you want to read it, make sure you read it for fun only. That's the only way you can be satisfied. You care to find seriousness and you ruin your time!
2.

Half Girlfriend by Chetan Bhagat – Book Review