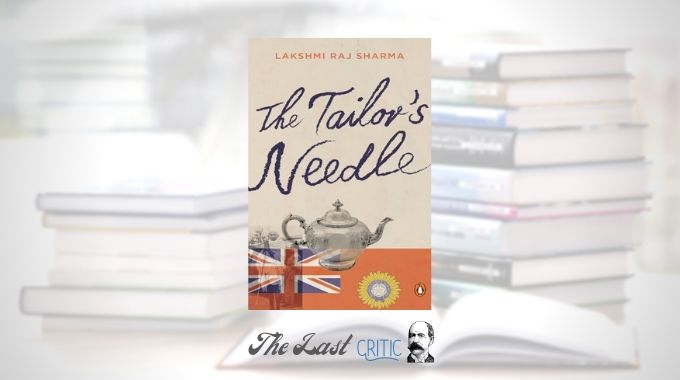 The Tailor's Needle by Lakshmi Raj Sharma – Book Review
In the Sphere:
Lakshmi Raj Sharma's The Tailor's Needle takes us back to history when India was a slave to the British. The author has highlighted, in succinct detail, some of the evil practices like – intercaste-marriages, class discrimination and untouchability, practised in India during that period of time and promotes Gandhian Philosophy of untouchability and equality. The book also provides deep insight into how badly did the Britishers treat and behave with poor Indians. 
The Book
Sir Sarawati Chandra Ranabakshi, the central figure in this novel, commonly known as Rai Bahadur, believed that we all have Gandhi within us and the need is to awaken this Gandhi by rejecting caste distinction. By uniting with other community we can expand and together can contribute, not directly, but indirectly to India's freedom struggle. 
Maneka, the eldest daughter of Sir Saraswati Chandra Ranbakshi, and her life events are chiefly the basis of Lakshmi Raj Sharma's novel. Unlike the stereotype girls of pre-independence era, who used to be submissive, humble and meek, Maneka is temperamental, outspoken, strong-willed, emotionally independent, and extremely liberated in her thoughts. She always dominated Sita, her younger sister and youngest child of Sir Saraswati Chandra. Maneka's approach towards life and her attitude resulted in differences between her and her father. Whether differences between Maneka and Sir Saraswati Chandra would end or escalate? What if, Sir Saraswati Chandra would know about Maneka's affair with Larry Stephens, District Collector of Mirzapur? Would Larry Stephens marry Maneka? 
This is one perspective that would give the readers a thrill which might be enough to inspire them to keep reading the novel until it ends. More than that, there are many other aspects of this novel. The Tailor's Needle represents a true picture of Indian society (in general) which was dominated by various vices and discrimination based on caste and class was one major chapter in that social book. However, Lakshmi Raj Sharma's approach has been constructive and he has highlighted the efforts by Rai Bahadur in this direction. The introduction of Vaish Family and a love affair between Yogendra and Gauri (daughter of Govind Chandra Vaish), who is from lower strata of society, further adds to the constructive writing efforts by novelist Lakshmi Raj Sharma. 
Conclusion:
The events in the story take place in a logical manner and not narrated because they are meant to be told. The story is well-paced and all the characters are beautifully brought to life. The emotions are dealt with the right amount of detail. Furthermore, many of us must have heard many stories of India prior to independence from our grandparents and must have read a number of books too, but the way the author has described every occurrences and episode is a feat in itself. 
I thoroughly enjoyed reading this book and shall definitely re-read it again. Having read this book, I look forward to reading more of Lakshmi Raj Sharma's books.
You can get a copy of the same from Amazon India online store. Click the link below to get a copy now and enjoy this classic Indian novel.
review by a contributor to The Last Critic  
The Tailor's Needle by Lakshmi Raj Sharma
Summary
The Tailor's Needle by Lakshmi Raj Sharma is a novel that you must read if you enjoy reading classic Indian novels and constructive and meaningful fiction. The author has presented a true picture of India before independence that you cannot resist knowing more…
1.

The Tailor's Needle by Lakshmi Raj Sharma – Book Review