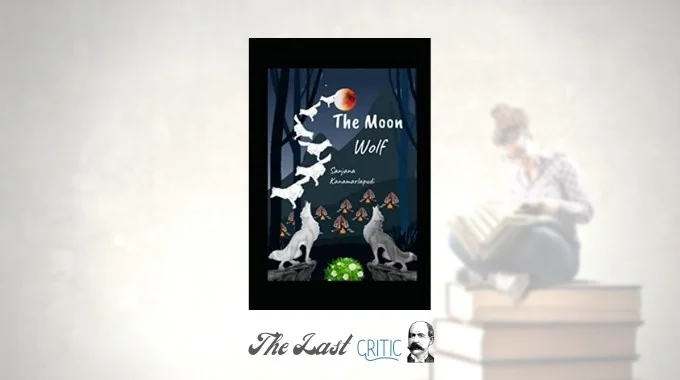 The Moon Wolf by Sanjana Kanamarlapudi: Book Review
Are you looking for the next good book for your 12-year-old child? Do you want to gift your family's youngest one a gift that he or she can read, enjoy and learn from at the same time? Well, for all such parents, individuals and reader friends, I have brought a wonderful book written by a very young, talented and deserving author, Sanjana Kanamarlapudi. The Moon Wolf will be an ideal book for kids, children in their early teens or anyone who wills to read a quick-moving fiction involving wolves and their battles. 
The story in a nutshell: 
A pack of wolves accept a pup, lying in the bush, abandoned. The pup has some strange moon-like glow on it. Growing with time, Moony, the pup, shows some great qualities that make its 'supposed' parent proud. However, as it happens in every good story, Moony is hated by a few in the pack. Nevertheless, Moony soon starts impressing everyone including the Alpha of the pack and the entire pack starts believing that Moony will be the one to fulfil the prophecy – a wolf will create a bond between the wolves and the humans that will last forever. Eventually, Moony becomes the leader of the pack. However, his real test still awaits as Moony has to take on the Dark Pack, full of ferocious wolves who are led by Grey, the dangerous wolf that attacked the Alpha with an intention to kill and grab the throne. Will Moony be able to defeat the Dark Pack? Does Moony have special powers? Will Moony seek help from the humans? These are the questions that this novel by Sanjana Kanamarlapudi answers. 
A critical assessment of The Moon Wolf: 
The very first thing that will attract any reader to the book is that it has been written by a very young author, about 14. Sanjana Kanamarlapudi, as a young novelist, has shown many remarkable qualities that we seldom find in authors of her age. She has been able to create an interesting animal character and ascribe special powers, qualities and heroism to it that Moony's description, acts and tact manage to carry very aptly! The novel will certainly attract readers of young age because it is written in a very friendly language, in a very straightforward storytelling style and with a certain degree of morality embedded in it – the right combination for children literature that kids should read. 
What makes this novel better than other children books?
Unlike other novels or books written for children, The Moon Wolf has both the essential elements that young readers should ideally get in a book – moral lesson, an interesting story. Moony is an exemplary character that will inspire readers of young age to become better, do better and yet, enjoy their deeds and life. Sanjana Kanamarlapudi, young herself, has a promising novel to offer her peers, younger than her readers and virtually anyone who wants to read a good novel! 
Where can you buy it? Amazon India. Link below: 
Buy the novel now – click here 
Review by Parakashtha for The Last Critic
The Moon Wolf by Sanjana Kanamarlapudi: Book Review
Summary
The Moon Wolf by Sanjana Kanamarlapudi is a novel suited for young readers who need to learn the basic qualities of a good and responsible citizen… but in an interesting way!