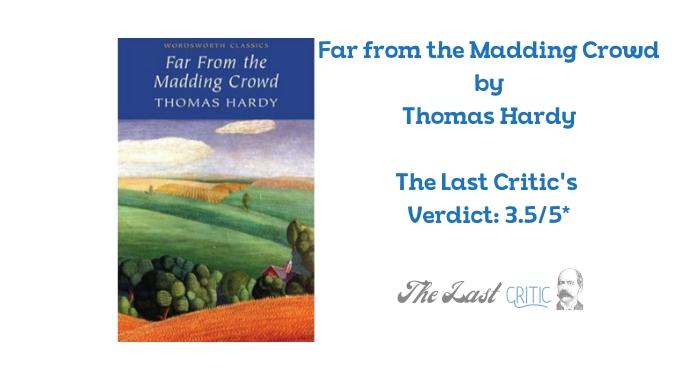 Far from the Madding Crowd by Thomas Hardy
Talks about Thomas Hardy can lead readers to various novels by him. And, for me, discussions on Hardy often come to one of the best novels by him (for me, again) – Far from the Madding Crowd, an 1874 novel. Though Hardy's pessimism often comes to the fore when critics sit to hound his writings, we must appreciate that he never let his characters lose hope and lose what they loved (love, in most of the cases). Far from the Madding Crowd is a novel that celebrates the constancy of love – Oak for Bathsheba. I am Gaurav Shashi and here is my review of this novel for The Last Critic. 
In the Sphere: 
The book has been printed and reprinted many times since its first publication in 1874. There are many reasons behind this cycle of print-reprint. The book can be divided (assumingly) into three major parts – Oak's revealing his love, Bathsheba flirting with Boldwood and Troy's precise deceit with her, and finally Oak and Bathshebha's reunion. There are various editions available for this book and one would prefer the Penguin edition or maybe Oxford Classics edition. However, the novel remains the same – a Victorian romance classic out and out with certain insertion of Hardy's love for countryside and nature and his implicit rebellion against the urban adamance.  
The Book: 
I remember very well my professor praising Hardy's style of writing from the very bottom of his heart. Thomas Hardy, he used to say, is a painter who can paint the flora and fauna with his words. Reading Far from the Madding Crowd offers the same admission and one cannot deny what my professor said. More than that, this novel exhibits Hardy's command over prolonged narratives. He could stretch his novels just with the sheer quality of his language. 
"I shall do one thing in this life – one thing certain – that is, love you, and long for you, and keep wanting you till I die."
This is, perhaps, the most-quoted line by Hardy that he ascribed to the shy and devoted lover Gabriel Oak in his novel. Hardy's descriptions of minute events are wonderful to read and visualise. His characters are wonderfully portrayed and a reader can understand the entire plant just by the hint of a leaf. Implicit voices of women's freedom and in their choices for life can be heard by the readers with a leaning for feminism. Likewise, the readers with an interest in Eco Criticism in literature have too many instances to extract in this novel. 
At the same time, one should remember that Far from the Madding Crowd might not arouse the reading audience of young age today as it did a century ago. This is chiefly because Hardy's language and choice of theme are beyond the comprehension limits of the modern audience as the world has changed by many degrees. Hardy's novel may be read only by those who have to read it – by compulsion or by strict choice. It is a classic in terms of language and set-up. It is not relevant today and this is the bitter truth! 
Conclusion: 
I have nothing against Hardy because I admire him for what he is! His novels are my favourites and I would love to read any of his published materials (except his poems) any day. However, Far from the Madding Crowd, being honest, cannot cross the periphery of intellectual discourse and syllabuses today. It has a limited readership because it cannot accommodate the ambitions of today's' lovers. It cannot be liked by many modern readers because it does not offer a happening plot. Things are there but just to be there and they depend on fortune rather than being actively involved in the course of action. Bathsheba strikes and she will strike the conscious of modern readers as well. Oak impresses with his shy and sincere attitude. Troy will a fanciful character for the readers and Boldwood may be judged as a person struck with misfortune and ego of Bathsheba unnecessarily. As a whole, Far from the Madding Crowd may impress you and may depress you as well! 
Should you read it? Yes! If you want to have a taste of Victorian Novels, you should read it. If you want to understand the Hardy-and-Fate theory, you should read it carefully. If you are a student of Victorian literature, you MUST read it. You can get a copy of this novel from Amazon India by clicking the link below. 
Buy the book – Amazon India – click here 
review by Gaurav Shashi for The Last Critic 
Far from the Madding Crowd by Thomas Hardy
Themes & Perspectives

Plot

Narrative & Language

TLC Novel Rating
Summary
A novel that has its beauty embedded in the art of narrative… the beauty, the steadfast love, the fate, fortune and misfortune…
1.

Far from the Madding Crowd by Thomas Hardy