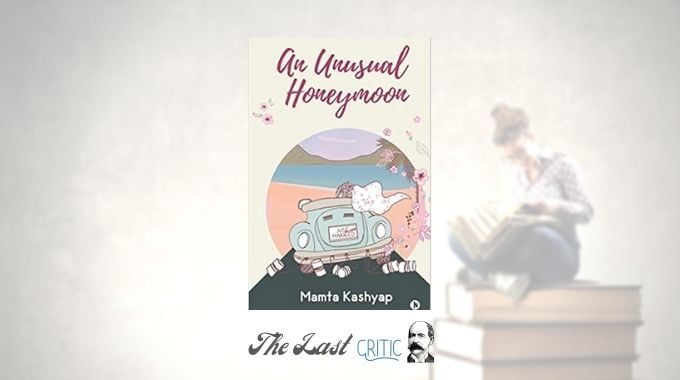 An Unusual Honeymoon – Mamta Kashyap – Book Review
2020 has not been a year worth remembering other than keeping a note of the important lessons that we learnt. However, for a reader, like me, who read a lot in their leisure, this year has brought unsolicited opportunity to read to one's heart's content. And I did. And a recent novel that I have read, An Unusual Honeymoon, by Mamta Kashyap, has been amusing, alerting and certainly a recommendable novel. In this review, I will share my experience with the book, the likes and suggestions and a compact book review that will help the readers take their call on this romantic comedy.
An Unusual Honeymoon, on the contrary to the title, is a very usual novel when you are on the third or fourth chapter and onwards. The unusual things in the storyline are very usual to those who might be watching Bollywood movies and daily serials with a saas-bahu-wife-affair drama. However, the novelist has taken a very different approach. She has done her best to unveil the episodes in a way that it attracts the readers towards knowing what happens next, makes the readers feel at home with the protagonist and also lures them into believing what the author wants.
As a novel, Mamta Kashyap's novel is convincing enough. It does have a grip over the readers' mindset. I began reading it with an expectation of things going this or that way, as per my understanding of modern fiction. However, my notions did not last long because it creates an instant impact and forces the readers, or rather successfully convinces them, to move the train of thoughts in a certain direction. Mahashweta and Rahul's candid, contractual and for-the-best-of-their-businesses marriage convinces them to believe something more, something more powerful, comforting and practical… true love does have a role to play in this novel.
An Unusual Honeymoon will be a very comforting read for the readers (like me) who are looking for wonderful comedies, the ones that used to be there 2-3 decades back. Mamta Kashyap has written without any complications in her storyline. She has kept things as simple as possible in terms of lexicon, language and structure of her work. However, when it comes to playing fair with whatever little resources she has in the name of the storyline, plot and narrative, she has done it with a subtle show of craft of writing fiction. You just cannot ignore… you have to find the time and read this novel which gave me hope in true love as well as in romantic comedies.
A break-up just before marriage and marriage even without knowing each other fairly… how the story of Rahul and Mahashweta's life unfold? A very natural, flowing and happening story of love, realisation and wonderfully added humour! You can get a copy from Amazon India in your desired format – Kindle or Paperback. Click the link below:
Buy the novel from Amazon now – click here
Review by a contributor to The Last Critic
An Unusual Honeymoon – Mamta Kashyap – Book Review
Summary
A light romantic comedy which does not let you get bored at any point… with a few this and that here and there that could make it even better, the novel is a very good source of entertainment and a healthy one for that matter. Laugh and enjoy what happens in the life of one certain woman and a gentleman.