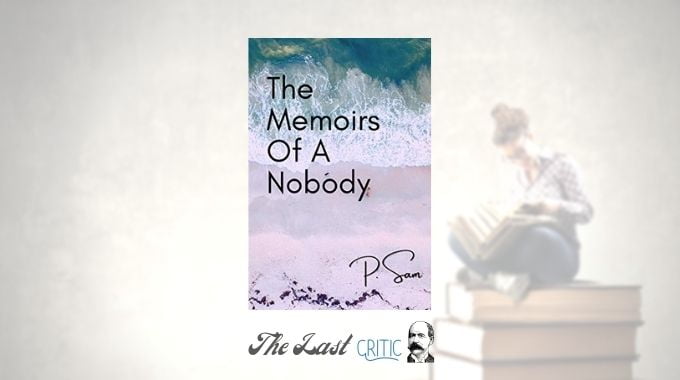 The Memoirs of a Nobody by P. Sam – Novel Review
The Memoirs of a Nobody is a recently published novel authored by P. Sam. At the outset, it appeared to be a novel more likely to be a mere memoir of a girl who started with childish acts and went on to become dexterous at things she did. However, as I went into the depths of this novel, which is a two-layered text – one in the present and one in the past, I was compelled to change my early opinion (more likely an impression). The story of Ambi and her ambitions, the story of Arth and his seriousness, the story of Aarav and his quick opinions… it was a compelling read, at the end of this very first paragraph of this book review article, I can say this.
"For fucks sake! Teachers are supposed to motivate you to be better, not make you question your existence!"
Do you see this? Yes, if you are forming an opinion, you are right. Modern-day authors are all about expressing their issues freely, unabashed and candidly. However, there are many instances that will compel the readers to realise that the author has been able to get a hold of youths' sentiments in her book. The Memoirs of a Nobody could very well be a memoir of many people.
It's about how a girl grows up. How a teenager balances her board exams and life. How a youth enters into higher secondary and makes her mark. How a young girl deals with college life and then tries to settle with a good career choice. In between, you will also get a dose of the remarkable flow of ideas, opinions, emotional expressions and so on… The opinions expressed by Aarav in the secondary narrative seem more like opinions of the readers at times and otherwise at others. In short, the novelist has covered her pages well enough and readers will get a good dose of entertainment reading those capricious details.
The major part of the novel concentrates on the love story between Arth and Ambi. These two collide at two different stages of life. One was an awry stand-off, almost. The second was a lousy opening but seemingly smooth ending with a surprising, rather unexpected conclusion which is not complete. Yes, the novelist has left this love story with a cliffhanger that will keep the readers wanting for more. The exchanges between Ambi and Arth are witty, contemporary and eventful on most of the occasions.
To sum it up, I will say that The Memoirs of a Nobody is an almost perfect beginning to an end which I would want to read. The novelist has been successful in creating a fiction which she might have intended to do. She has been vocal (through her characters) about the views she wanted to express. The novel has a singular but capturing story. So, you can get an entertaining piece for yourself once you begin reading the work… all the best!
Buy the novel from Amazon. To get a copy, click the link to Amazon buying page below:
Buy the novel – click here to go to Amazon buying page
Review by Gunjan for The Last Critic
The Memoirs of a Nobody by P. Sam – Novel Review
The Last Critic's Critical Rating
Summary
The Memoirs of a Nobody by P. Sam is a romantic novel with twists, opinionated plot and a neo-youthful narrative. A perfect piece for a one-time read. Yes, you might also want the next instalment soon…