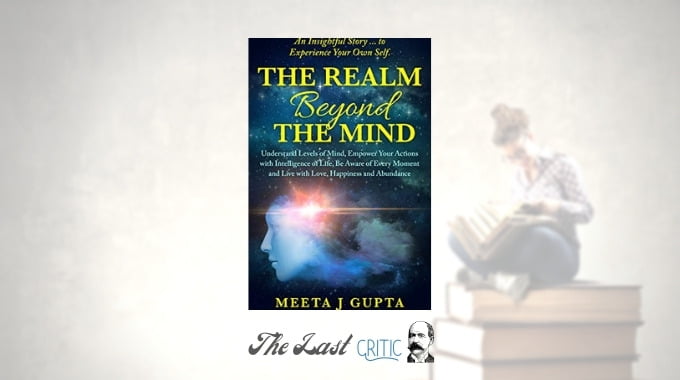 The Realm Beyond The Mind: Meeta J Gupta – Book Review
"It is her journey. Let her learn through her own experiences. It takes courage and fearlessness to do what Meru did at her level. Her motive was to be with her grandmother with pure love. Her selfless nature will help others see how beautifully you brought her up. Let her learn to evolve on her own now," the Master assured her.
It was a soft concern of Meru's mother in the Crystal World, the fourth layer of the Petal, that was wonderfully answered by Master Raman. Life in the fourth layer of this petal, the Crystal World, was amazing. People were in a stage of evolution, mental evolution I should say. They were unfolding their minds to discover their true selves.
Well, everything sounds like an imagination. And it is true. Meeta J Gupta, the novelist, has used her imagination to a great extent to ink her novel with such details, details of various worlds, details of various stages of the human mind, details of various layers of our thoughts and the details that we cannot imagine frequently – how Ayurveda can cure almost anything!
The novel part of this novel, The Realm Beyond The Mind, consists of a very straightforward story if you look at it this way. There is a girl who comes to earth seeking to meet her grandmother. Meru, as she is named by Master Tao who finds her at the peak of the mountains, is a wonderful learner and she learns many things about life on earth and also herbs in the company of Master Tao. When she is made to go with Vaid Moti Lal, she learns many more things and works with Moti Lal in preserving and discovering more and more herbs that could serve mankind with 'Arogya'. Other characters who will be frequently encountered by the readers in this novel are Darsh, grandson of Moti Lal, Krishnamurthy, a detective and Dr Wick, owner of a pharma company who is eager to launch a medicine that could treat the conditions caused by nuclear radiation. Dr. Wick is also a greedy fellow who looks to make more and more money with his allopathic discoveries and medicines that he creates. Darsh is inspired by him rather than his own grandfather who is busy serving human beings. So, the storyline is greed vs servitude, good vs bad, righteousness vs evil. There are murders, fear, suspense and thriller as well. However, everything is there in a balance that keeps the novel afloat and near to the readers all the time.
Deep down, however, you will find many layers in the novel as you find in the Petal. There is psychology, philosophy, spirituality and Ayurveda. There is also a wonderful case of symbolism that you will find in this novel. More than anything else, a character can posit himself or herself in the story of the novel and discover many perspectives about many things in the world along with discovering the realms beyond the mind and seeing one's own life in perspectives that we often ignore.
"It is the relationship with different beings that make our life rich and evolve us to a new dimension. This is the part of the wordless language of the animals. I wonder what language the forest speaks. It must be even more subtle, I think; but I will learn," she talked to the little monkey who was following her.
Meru's thoughts can be rendered into anyone's thought if we look at them carefully and ponder. The world is full of things and we don't even observe them. Meru, who comes from a world other than the earth we live in, finds many beautiful things on our planet and she tries to investigate, initiate and learn. You will find evolution in Meru's thought and also that in Darsh. You just need to read the novel to the last for many more – twists, revelations, realisations and more…
The novel is very interesting, also enlightening, intriguing and convincing. The author has been able to translate her imaginations and thoughts into a full circle of fiction that does not let the readers feel confused or even distracted. If you ask my opinion in one line – the novel is a must-read for the readers who can read English! Everyone! However, if you are not interested in Ayurveda or don't know much about the ancient Indian civilisations and their details, you might not connect with novel so much as a person with both these check-boxes marked!
You can get a copy of The Realm Beyond the Mind by Meeta J Gupta from Amazon India in Kindle or paperback format. Click the link below to get a copy now:
Review by Parakashtha for The Last Critic
The Realm Beyond The Mind: Meeta J Gupta – Book Review
Summary
Meeta Gupta's novel is almost flawless… she has created a whole new world, lived it with her characters, saw it with their eyes and felt it with their hearts… the novel will be a memorable read for you! Do read it!