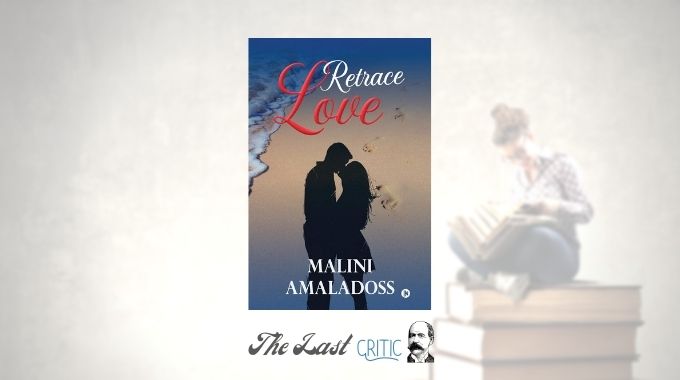 Retrace Love by Malini Amaladoss – Book Review
Retrace Love, as a novel, stands out to me for many reasons but the main reasons are very important and I will be highlighting the same in this book review for The Last Critic. Without much ado, I will come to the points directly. And, let us begin with a brief introduction to the novelist herself. It is the debut work by Malini Amaladoss and she has already announced her second one as well – You Complete Me. It certainly shows the conviction that she has in her writing. Moreover, it also reflects that she is too eager to bring out her versions of perception, imagination and thoughts to the world of the readers. Both the ways, Malini Amaladoss as a novelist comes out as a confident and convincing one.
Coming to Retrace Love, the novel of concern, it is a work that can be categorised by many as a romantic novel. Moreover, it also shows many other qualities that can easily persuade someone to categorise the work in different genres – contemporary fiction, psychological fiction, semi-serious fiction. Once you begin reading the work, you will realise that the novel begins as an into-the-thought work – Meghna and Tina beginning with their woes and issues within themselves rather than putting it out.
Retrace Love is a simple story of two best friends Meghna and Tina. It brings out the life and struggles of each of these two friends separately as well as together. The fulcrum of the storyline takes the readers back into the past and also brings them to India from Canada. A major part of the novel is narrated by Tina and the backdrop is India. Ray Dubey, the person whom Tina once loved, is another important character along with Neil, Meghna's husband with whom she separates because of Neil's weird or too much or simply perverted sexual desires that neither does he disclose to her nor she tries to explore further. In short, it is a story of two women leaving their past behind and moving on… but, coming back to 'retrace' what they have left. The storytelling might not come up the marks all the time but it is certainly compelling enough to arouse the interest of the readers in this novel.
I called it a psychological novel because it has many traits of the same. Ray and Tina's relationship is very simple at the beginning but gets complicated as Tina starts working as one of the start TV anchors and she tries to expose a scam in the same hospital that is owned by Ray's father. And then, there is a clash of professions that Tina cannot handle. However, the sorrows of a failed relationship with a man do not free her from the guilt or anger that she carries with her and her relationship with her husband, Kartik, does never grow more than two persons living under one roof. They never come close physically. At the same, there is a kind of mutual respect and understanding among these two… which is, to me, more psychological and behavioural. On the other hand, in spite of getting separated from Neil, Meghna does not start a new life and she settles in Canada with her mother and her daughter. Why? Why Tina? Why Meghna? These are the things that you will know once you read the novel and find out their versions themselves. Neil and Ray also have their stories to tell.
Yes, there are romantic explorations that you can enjoy once you start reading the novel. Malini has written in detail about love-making, conversations, and promises to be together, the marriage of Neil and Meghna and their eventual fall-out… Malini has given it a colour of romantic fiction with all she could. However, it certainly defies any one genre that we try to ascribe to the novel and stands out to me – and I hope it will stand out to anyone who reads it.
There are a few shortcomings or the novelist's designs that might have come short to what she might have expected. The first thing that comes to my mind in terms of not compensating the wide theme is its vocabulary and narrative. A third-person overall narrative might have done more, though it's my opinion as a critic and critics often differ from the writers themselves… Though I do think that elevated lexicon, like in those of Ghosh, could have done more justice to the complex characters like Ray and Neil as well as Meghna-Tina duo. Albeit, one can also guess those modern readers, a majority of then, do not enjoy reading complex language and they enjoy Chetan Bhagat's cakewalks… in those terms, Malini has done aptly well to narrate her debut novel! It should get her a wide readership and acceptability of the readers at large.
I would suggest this work to the readers who are interested in reading contemporary and romantic fiction. Though Malini is settled in the US, her work is more Indian than many other works by many Indian authors I have read. You will enjoy it and in turn, the fiction will compel you to think many things… you can get a copy from Amazon India by clicking the link below:
Buy the novel – click here to buy from Amazon India
Review by Madhav for The Last Critic
Retrace Love by Malini Amaladoss – Book Review
Summary
A must-read contemporary novel… Malini Amaladoss, as an author, convinces the readers and offers them something to think, something to ask and some answers we have all been searching for!