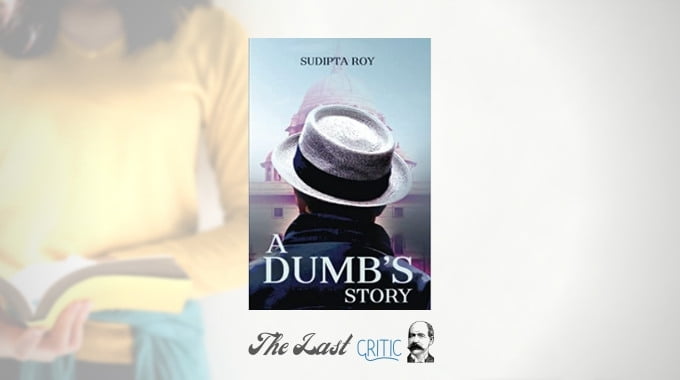 A Dumb's Story: A silent rattle that rips the rug of raunchy! by Sudipta Roy – Book Review
A Dumb's Story: A silent rattle that rips the rug of raunchy!
This is the title and I hope it will alert anyone who is accustomed to reading fiction by modern authors. It has something that we can call appeal or attraction or instantly striking weird thing about a title that provokes you to read the book. Well, there are many things in the novel I am about to discuss right now. And many of them will keep you excited, engaged or just confused… for that matter.
It begins with a typical corporate employee who has started to drink and smoke a lot. Fell in love with a colleague and her parents don't love him. The guy, named Nairit, gets diagnosed with cancer in his tongue and he somehow has to lose it (and his voice as well) or he might die. He gets his tongue out. Saves his life. Loses his girlfriend, motivation to live, leaves the job and decides to introspect before he could start anything else.
Well, Sudipta Roy, the novelist, has cleverly designed the protagonist to act closely humane… he errs, he falters, he relaxes and thinks, he decides and then he marches. There is no easy lunch in the novel and it's a good thing to read. However, at times, after the voice is lost, you will find the novel a bit clumsy because Nairit always talks in SMS or chats and the visible and detailed descriptions of the chats might irritate the readers. After deciding to leave the corporate life behind, Nairit thinks of joining politics and does so by getting an opportunity in the leading opposition party. Not only him, but his friends also join politics.
"The party has also decided to allow your friend Bayu to contest for the election. I am not sure about his choice, but if he wants to join active politics, my party is ready to welcome him."
And these are a few instances (you will find in the novel) that tell you why fiction and real-life might be in a long-distance relationship rather than being close to each other. Politics is not that easy. It is very much a profession and candidate selection, policymaking, election campaigns are rather serious than being thrown away like that. However, for the sake of fiction, this is a good thing to read as you might create an affinity with Bayu, Nairit and Neer by the time you reach the page from where I have quoted the lines.
A Dumb's Story is a sincere attempt at mapping human ambitions. However, the author has presented a case study as well – what do you do when you decide you are no more useful? Yes, you try to make others' life useful and worth and so does the protagonist here. Nairit's story might be inspiring as well.
The writing style of Sudipta Roy is simple and modern reader-friendly. You don't have to wrestle with the lexicon, you don't have to decode the encrypted messages. Metaphor or symbolic names of the characters, places and instances are easily distinguishable and you can grasp the same if you are a careful as well as a serious reader of modern fiction. It is good to see that Sudipta has tried his best to give his debut novel layers other than the storyline.
On the other side, you might argue that the author has tried to show a realistic picture of our society. We can accept a person who is dumb as our leader. We cannot accept that a dumb person can lead high profile colleagues in a private company! Parents are always there for their kids but kids are rather confused in tantrums of the world and they hide many things from their parents as Nairit does. Well, it's not always the case that a demon will be born to a demon father… try finding these symbols in the novel… just for fun!
You can get a copy of this novel from Amazon India by clicking the link below:
Review by Ashish Mishra
A Dumb's Story: A silent rattle that rips the rug of raunchy! by Sudipta Roy – Book Review
Summary
A Dumb's Story: A silent rattle that rips the rug of raunchy! by Sudipta Roy is a novel that will prove to be a novel that we are looking for, almost all the times we read something senseless and crash!