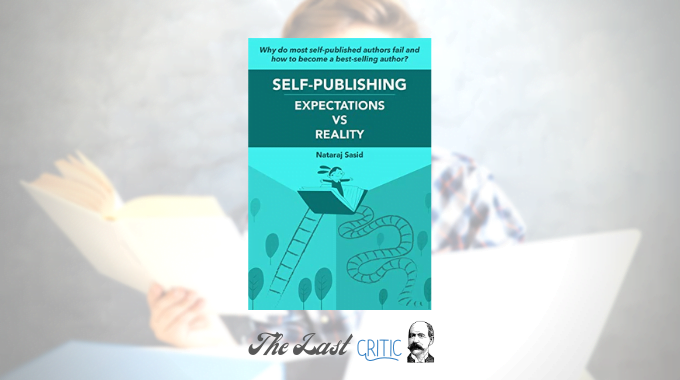 Self-Publishing: Expectations vs Reality – Book Review
Nataraj Sasid, the author of this book, Self-Publishing: Expectations vs Reality, has a serious business to do. He offers his valuable advice, experience and the real picture of the publishing industry in black and white so that the authors who are yet to be are not confused with any fancy ideas. And the best thing about this book is that it comes at a time when self-publishing has become a trend and almost all the newcomers in Indian writing, including authors like Anand Neelakantan at a point, use this mode compared to the redundant, obsolete and archaic traditional publishing which has almost slowed down to the speed of zero because of many obvious and secret reasons. So, what do you expect from such a title? You can learn the basics of:
How to self-publish your book
How to make your books sell
What to expect from your venture
First of all, I would recommend this book only to the readers who either want to study the mathematics of self-publishing industry or are interested in knowing more so that they can use this knowledge when they venture into self-publishing as authors. Other than that, if you are not interested in self-publishing, you are not the ideal reader for this title.
There are 14 chapters in the book. It begins with a preface or foreword which is written by the famous American author Geoffrey Giuliano in which he explains why the book is useful for the readers it is aimed at. The chapters try to simply the meanings and fix the goals of various actions. For example, the author tries to make the readers understand, in the beginning, that their writing is the most important thing and one should focus on sharpening this skill. Unless an interest in writing is there, there will be no advantage in becoming a writer because this is a slow process which pays out very slowly.
"Well, the rules to good writing are being debated, discussed, analyzed, and concluded by many; and it wouldn't harm if we talked about things that make good writers – writers who take up spaces in peoples' hearts in addition to their bookshelves."
With basic tips to writing, Nataraj has moved to introduce the basics of publishing to the readers. It was a remarkable shift or transition that unfolds properly before introducing the readers directly to the concept of self-publishing and the secrets, dirty and otherwise, that many publishers use. It is to be noted that the author is himself a person indulged in providing various publishing services to many big publishers in India and has recently ventured into the field of self-publishing as well. However, he has tried his best to be honest about what and how things are. While the chapters that introduce publishing and self-publishing and compare both modes of publication are simple but informative, the chapter that introduces how an author can self-publish himself and how one can taste success in this field are wonderfully written and will be very useful for anyone with publishing ambitions.
The chapters on book sales are also very helpful for upcoming authors in which Nataraj Sasid argues that new authors should opt for Kindle publication or digital publication on many other platforms for various beneficial reasons and cost-effectiveness. An author can understand, certainly, how can he or she make a book live at the lowest possible cost and instead of investing too much in publishing, can use the balance in promoting a book. He has also hinted at some of the strategies that authors can pay attention to in order to understand how a book sells and what one can do to sell more books. Though these chapters are not conclusive, they certainly give an idea.
I will, in the end, say that the book is useful for beginners in writing and publishing. It will be certainly a good idea to tell the would-be authors to read this book by Nataraj, Self-Publishing: Expectations vs Reality before they enter the competitive world of writing and publishing and selling what they write and publish! The book is available on Amazon Kindle store. You can get a copy right now by clicking the link below and go to Amazon to make the purchase:
Buy the book from Amazon India – click here 
Review by a contributor to The Last Critic
Self-Publishing: Expectations vs Reality by Nataraj Sasid – Book Review
Summary
Self-Publishing: Expectations vs Reality by Nataraj Sasid is a comprehensive, not conclusive, book on how to write, self-publish and sell your books.
3.

Self-Publishing: Expectations vs Reality – Book Review