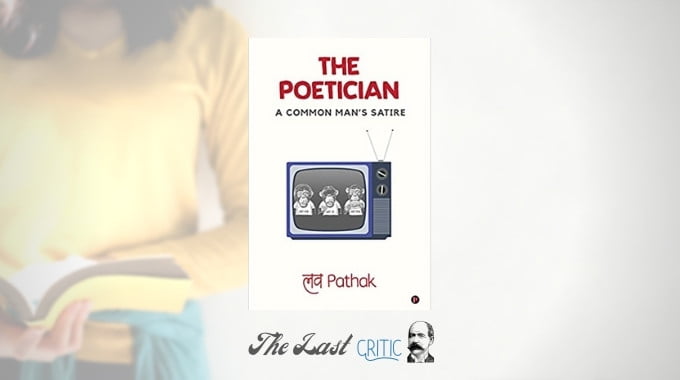 The Poetician: A common man's satire by Lov Pathak – Book Review
The Poetician is a poetry collection written by Lov Pathak. Subtitled as 'a common man's satire' the book gives you a very productive few minutes you spend reading and understanding it. Satire is there. Amusing, sentimental, existential and environmental… different kinds of satire are there in the book and it feels like a common man is grunted about everything around him. A poem, practical vs theory, questions the entire education system or the industry that sells education to us – why the hell do we need to read everything in theory when we go out facing the realities in the world being practical? There will be many more questions like this one. And there are many interesting things about the book as well.
Form & Style: 
The book is written in Roman scripts but the language of the book is Hindi. Yes, this is some kind of experimental attempt that Lov Pathak, the poet might have made. However, it is certainly exciting to read something like this in the mainstream for the first time… at least for me. There are 30 poems in the collection and it begins with a poem called Oxygen Wala Tree. You will certainly find some rhyme there. Lines are uneven and do rhyme with the previous line most of the time. Couplets. The poet goes into the past and digs out things close to him and related to the subject of the poem. He exposes the present conditions and gives the readers a contrasting image. This is the style in common that you will find in many of the poems.
Themes: 
Lov Pathak has written about many things in his poetry collection. The Poetician is truly a common man's satire and you will feel the same when you go on reading poems after one another. Lov has ridiculed things that are problematic, modern but useless and many forms of many things in the present that are harmful to us. He has made fun of education without a cause, development without a vision, modernisation without soul and so on… he has also written a few personal poems which are rather sentimental and loaded with emotions.
Kaise bhoolun ki bandhookon se ladna kisne sikhaya tha
Jalianwala mein har seene mein barood tune ghusaya tha
Woh dhoti wala mahanayak to ban gaya magar kaise bhoolun ki
Erwin pact ke baad Bhagat Singh ko phaansi tune hi chadvaya tha
There are serious messages. Hidden and open. There is frustration. There is an urge to tell the world what an average person feels dodged by all kinds of this-that in society. Lov Pathak has tried to be brutal, rough and candid about his feelings, thoughts and themes in the poetry collection. He has used his medium of expression very well to strike again and again on the conscience of the readers. His love story is different and you will laugh at it, initially, before you remember your own golden days of youth and join the poet.
Wahi avon cycle jisne mera har waqt saath diya tha
Mera woh chetak ghoda jiske haathon mein maine apna haath diya tha
Bharosa tha aisa jo paththar gir jaane pe bhi na tootata tha
Har baar uske betakalluff safar se dil mein kamal phootata tha
Conclusion & Verdict: 
Lov's experiment has been successful. You will connect with the poems. You will connect with the emotions. You will surely feel what the poet wants you to feel. You will think in the direction of the poet. He has written everything with his heart and he has been blunt about his emotions, thoughts, experiences and views. Nothing to hide. Nothing to silver-coat and fabricate. Rare poetry collections of the day are so honest. However, the lack of 'poetic' elements in poetry might confuse the readers who are accustomed to reading poetry with emotions and lyrics packed together. Lov Pathak's poetry is for the common man who is willing to understand the frustrations of a common man rather than hanging him for the verse… if you get my point!
Anyone who is willing to understand the emotions, feelings and thoughts of a common man who is suffering in society and finding many things missing that were there a few decades ago will join Lov Pathak's interesting emotional journey in the retrospect! You can get a copy from Amazon India in Ebook or physical book format. Click the link below to get a copy now:
Buy The Poetician by Lov Pathak – Amazon India 
Review by Gunjan for The Last Critic
The Poetician: A common man's satire by Lov Pathak – Book Review
Summary
Honest, candid, true, amusing and satirical in everything… an interesting poetry collection you will surely enjoy reading!