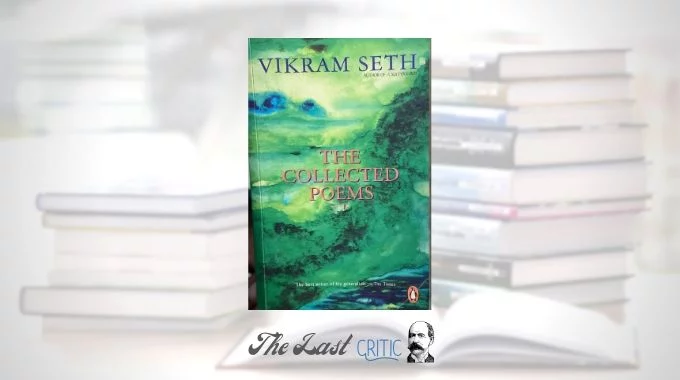 The Collected Poems by Vikram Seth (Penguin) – Book Review
In the Sphere: 
Vikram Seth is a well-known author and poet. His book The Golden Gate has certainly established him as one of the most respected figures in Indian English literature and his reputation, fortunately for him, has always been increasing in the academic circles since then. All those who remember The Golden Gate, must remember its subtitle – A novel in verse. And therefore, one can safely say that Vikram Seth's inclination is towards poetry – verse, symphony and depth. Today, I will review his poetry collection, published by Penguin in 1999. I hope my review for this platform, The Last Critic, will be useful for the readers and book lovers.
The Book:
The cover of The Collected Poems by Vikram Seth is suitable, because it's ambiguous, for such titles. The readers will have many thoughts in their mind just after witnessing the cover. It may show a gate to some in a dense forest or it can convey an ocean with waves towering and sky looking down – well, this is what we call engaging the poetry lovers. I am rather dubious in my thoughts when an author of the stature of Vikram Seth binds himself to an identity – Vikram Seth, Author of a A Suitable Boy. Do you also find it ridiculous? I do. Vikram Seth should be enough because anyone who has an interest in his poetry must know what are the titles he has written.
The book has poems from 15 different collections by Vikram Seth. First things first and let me tell that I liked the most the poems from the collection ALL YOU WHO SLEEP TONIGHT and then further appended to Romantic Residues. Pain, grief, a sense of loss… everything reflects so well in his poems from this particular collection.
"Great city, harsh and tall,
In the cold throes of spring –
Numb and distract us all 
That love may lose its sting."
Poems from the collection BEASTLY TALES FROM HERE AND THERE will surprise many because of the ease with which Vikram Seth has brought the fables to life. A reader can easily get the ideas for life from those poems that are too ideal for the kids to read and enjoy.
And there are many poems that will just narrate the simple tales from the life of Vikram Seth. His father, his mother, his family members, his friends, his days as a child and so many other things find their places in his works. Will you like those poems? That depends upon your taste in reading poetry. There are 428 pages in the book and I am sure no reader will have the patience or the zeal to go through this collection page by page. Reading poetry needs patience and interest – the book, however, lacks the latter.
The Conclusion: 
My taste in poetry is not new and I know what it takes to write it, as well. Though I do not write poetry very often but I am sure there is something, some unidentified thing which takes to keep the poetry lovers engaged with what you compose. I do find that in Seth's poems – but that is rare or at least not very often. And then, there is a reason that we call him (many do so) a children's poet. His poems do not have that deeper depth which is essential to make the poetry readers calm, to teleport them to a new world. In my lines above, I did praise one of his collections – Romantic Residues. That collection have the poems that can bring the poetry lovers to a pause. They will sit and think about the situations that Vikram creates with his verse. Other than that, I don't see any other collection pulling it off likely. Poems for children, the Beastly Tales, will attract the children very effectively. Yes, something new in Indian English poetry was tried with the translations of the Chinese verse. The readers who can understand the significance of those lines will find the poems by Seth interesting and also engaging to an extent. At last, I will say that the collection doesn't cross its academic periphery and Vikram Seth is better within the compounds of academia…
You can buy this collection from Amazon India by clicking the link to the book below:
Buy this book – click here to buy from Amazon 
review by a regular contributor to The Last Critic
The Collected Poems by Vikram Seth
Themes

Narrative & Poetic Flow

Diction, Style and Impact

TLC Poetry Score
Summary
You will enjoy some of the poems… you will be amused with many of them… readable poems and enjoyable (at times) narrative with seriousness-lacking themes…