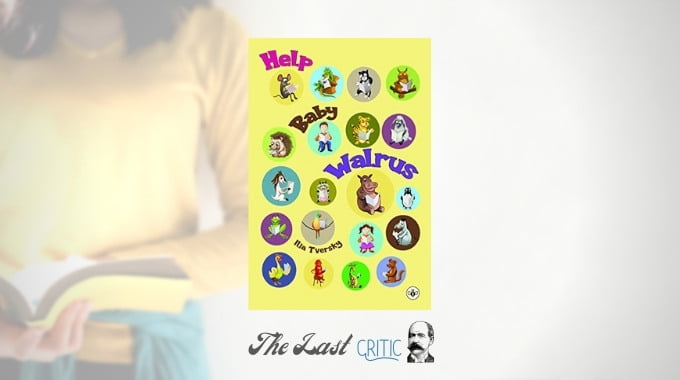 Help Baby Walrus by Ilia Tversky – Book Review
A collection of poems cannot be complete without the output – the result that the poet may intend to bring or the impact that a poet might envision generating upon the minds of the target audience. Help Baby Walrus (taken from the title of a poem) is a collection of poems written by Ilia Tversky (and translated into English by his friends). The collection of poems is primarily meant for children and young readers who might enjoy reading simple rhyming poems. Nevertheless, the collection of poems can be read by anyone who wishes to read good poetry and enjoy good literature. Yes, the inclusion of images, simple language and an entertaining story makes it more compatible for children readers.
Then he chatted on his cell phone
With his friend, the elephant, Jerome.
In the evening he grew serene
And played piano softly, like a dream.
Like you can see in the lines above, the poems in the collection feed upon fantasy, imagination, thoughts involving animals, elephants talking on the phone, animals going on war, dogs sleeping with their human friends and so on. However, beneath the primary surface, you will notice and observe many things that indicate the poet might be suggesting many things more than the simple meanings and joyous rhyming stories for children. The simple words, simple thoughts and a lyrical flow will surely do kids more favour compared to the grown-up readers. Moderate reading skills and comprehension of a basic level will help kids sail across the book.
It is very important to note that the poems have been translated from a different language into English. And this transition in language has not taken away too much from the meaning of the poems. So, kudos to the translators too.
Doggie Lisik rarely barks
Unless he hears a thief.
Or spies a chicken or a cat.
And when he stops, it's a relief.
These lines not only look better, read better and sound better when read by someone but also offer a hidden but simple meaning – dogs do not bark uselessly and dogs support us in our lives in many ways. Poems feature crocodiles, frogs, peacocks, penguins and more animals. Rhyme, in this case, makes reason sound much better.
One more thing that I would like to point out to the readers (or parents who might get it for their kids) is that the poems also come accompanied by very attractive, high quality and matching graphics. These photos will make the experience of the readers, mostly kids, much better. They will easily visualise these characters talking, speaking, dancing and doing things with their photos compared to what could have been the case without photos.
To sum it up, Help Baby Walrus will be a wonderful joyride for kids of young age who can read moderate English. These poems come loaded with interesting stories, conversations and messages that will enhance the thought process of kids. Do get a copy from Amazon India –
Click here to get a copy now – Amazon India
Review by Ashish for Indian Book Critics
Help Baby Walrus by Ilia Tversky – Book Review
Summary
Help Baby Walrus by Ilia Tversky is a poetry collection for children. The book contains images, rhyming poems and creates an entertaining as well as a thought-enriching impact upon the intended readers.