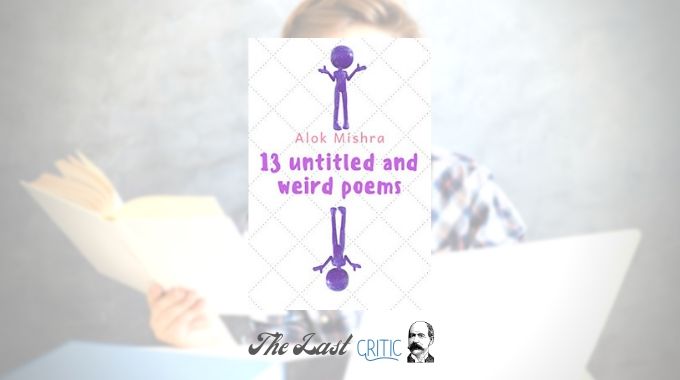 13 untitled and weird poems by Alok Mishra – book review
Poetry!
Too intellectual, too philosophical, too complicated, too tough to comprehend, too serious and so on.  Usually, these thoughts punch our head as soon as we take a poetry book in our hand. Before we could start reading it, we keep it back to its place, nicely and properly. As if we care for it. But, the truth is exactly the opposite. We have never cared for them (poetry books). We always ignored their whine. We seldom take out time from our pretty busy schedule to actually say them a hello. And we boast, especially in public, we love verse. Well, that might be too much for today's self-mirroring and let's get back to the business of the day. Today I am going to review a collection of poems by Alok Mishra, 13 untitled and weird poems, a poetry collection published back in 2018.
The reality is we are living in a world where entertainment has planted its feet firmly. We think about entertainment all the time. We seek for entertainment, absurd entrainment and cheap entertainment. And entertainment in all its possible shades we get in novels written by new-age popular and best-selling authors like Chetan Bhagat, Ravinder Singh, Anand Neelakantan, Chitra Banerjee Divakaruni, etc. (I bet you, I will surprise you with my choices. 🙂 The list is very long. And in this continual and unending long for entertainment, we often overlook poetry. Is entertainment all about laughter? Or, is it all about enjoyment? Or, is it about leisure? No! Entertainment is something that bursts the bubble of stress and makes you feel fresh, relaxed and rejuvenated.
Poetry too provides all this. Really. Here, the need is to understand that poetry too is a platter full of entertainment, but of a different kind. Poetry is limitless. It never holds you. Instead, it gives you an entire sky to fly. It sets you free. Unlike novels, it provides you with different perspectives to look into things and make dull things more bright, interesting and intriguing. If you embrace it wholeheartedly, poetry, through each word, through each line, through each stanza, soothe your mind and soul. Poetry is fun, play with it. You must be thinking about what complexity I am blurting out. But, believe me, what I have said has complete sense.
Recently, I have read this very short, probably shortest ever, poetry book, titled as "13 Untitled and Weird Poems" by Alok Mishra. The book is really so short that I have finished it in just 10 minutes. But, I re-read it twice, thrice to play with the verses. You heard me write, to play with the verses as each of the poems written by Alok Mishra holds enormous opportunity to be interpreted in multiple ways. This is the real beauty of poetry when everyone could relate to it without any hassle. And the author, in fact, the poet has succeeded in maintaining the same. There are very few of those, talking about Indian English poets, these days who can produce quality poetry. And when you have a chance to read a few, grab it and enjoy!
As the title of the book announces in advance about the possible weird elements we might encounter inside, all the poems are really weird. However, they say many things. Things that could shake your half-awake mind and compel you to think beyond entertainment, about this precious and gifted life. The poems included in the collection offer the readers no certain rhyme and no defined pattern.  At first glance, you may find them as thirteen different threads. However, they still have some hidden connection which holds them together. At times, readers can directly relate to the lines. They are written in simple language but carry very strong messages. Take a look at the following lines:
Ombrey
to
Multi-million poker
Evolution is real.

Death by hunger
to
More death by more hunger
Revolution was never real.
The lines above map the pain of many hundred years of revolutions that were led by many a great leader with zero or the minimum output for the people who were at the centre of all those revolutions. What changed? Those who had, have more now. Those who did not have, have lesser now. The 'leaders' who led protests and stood in the eye of revolutionary storms are millionaires now! Poetry speaks too much in too little and this is what we have to look for. 13 untitled and weird poems is a pack that you need to read 2-3 times to be able to comprehend the sense (for yourself only) of all the poems. I wish you the best! You can get a copy of this collection from Amazon Kindle books store by clicking the link below:
Buy the book from Amazon: click here to buy
Review by Nidhi Parikh for The Last Critic
13 untitled and weird poems – book review
Summary
A poetry collection that you should not miss… a poetry collection that you will read several times! Each time, with an increased duration… 13 untitled and weird poems is a stirring collection by Alok Mishra.