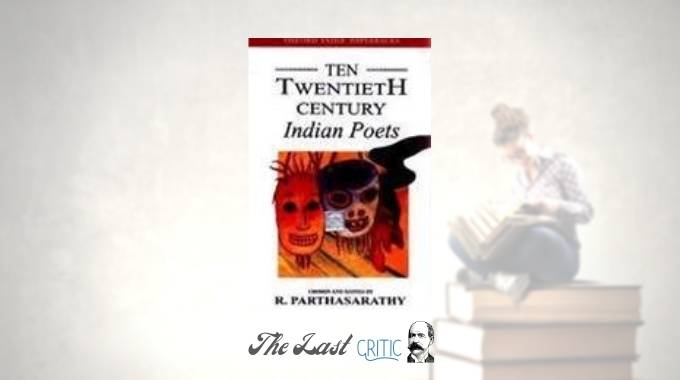 Ten Twentieth Century Indian Poets: R. Parthasarthy – Book Review
The very first thing that attracted my critical attention is the title of the book. Indian Poets are many, writing in various languages and cannot be limited within one certain context, consciously or just loosely. However, the editor of this collection, a poet himself, somehow felt it unnecessary to further qualify the title by adding English between Century & Indian which would have made the things very much easier for anyone who wants to know 20th-century Indian English poets rather than poets at large, many thousands. Well, let's remove our attention from the title and get straight into the content of this book which intends to introduce 10 20th-century Indian English poets to the readers and people interested in knowing more about the subject and then 'contemporary' poets.
Being honest, I cannot see beyond the names that are in the book. Yes, Indian English poetry could not sustain any thought line and nor it could do anything in terms of attracting more poets to adopt the language which could express their emotions only in a scanty way. Names like Kamala Das, A K Ramanujan, Keki. N. Daruwala and Jayanta Mahapatra are to be there when we discuss 20th-century Indian English poets. Their poetry, at best, was better than others when we compare various aspects. However, the selection in this collection has been truly clever, up to the mark and justified. R. Parthasarthy has been very crucially conscious when he added Enterprise, Death of a Bird and Naryal Purnima. However, the usual inclusions in the form of Philosophy, Night of the Scorpion, Poet, Lover, Birdwatcher and a few others could have been avoided as these poems have been so regular.
Poems by Nissim Ezekiel, when repeated many times, have almost become familiar with the poetry reading community in India and that truly damages the reputation of the poet himself. The editor could have picked many other options available in the vast collection of Ezekiel rather than offering the same pieces of poems which are available in many other collections by the poet himself and by many other editors and publications. Other than Ezekiel, choices made for other poets are almost well-placed and we certainly have to give credit to Parthasarthy for that. However, we have to keep in mind that the poetry collection edited by Parthasarthy appeared in 1976 and many other collections appeared after this one may have copied Ezekiel's publications from this edition and this is something that the editor could neither control nor do anything else about it. So, the criticism for repetitive choices may be off-placed.
Other than the choices of poems by different poets, Parthasathry's biggest contribution to Indian English poetry readers (and also poets themselves) could be the introductions that he offered. Very sharply written, highlighting the chief qualities and also measured in terms of remarks, the introductions to the poets included in this collection have been the first step for many students and readers in knowing about the poets they want to know. So, Parthasarthy has to be congratulated as well as respected for what he could contribute to the poetry society in India. And, the poets too must be thankful to him that he introduced to them a wide readership.
Well, in today's context, the book might have gone redundant or almost useless for the readers of modern English poetry in India. Still, the book is a good piece of literature for anyone who is a student or doing research in Indian English poetry. So, if you are a student, get the book. If you are a casually interested person in Indian English poetry, you should read the collection to know what kind of poetry was there in the 1970-80 era. All the best! You can get a copy from Amazon India by clicking the link below:
Buy the book now – click here to get a copy from Amazon
Review by IP_reader for The Last Critic
Ten Twentieth Century Indian Poets book review
The Last Critic's Verdict
Summary
This is a useful and informative book which might not be interesting and entertaining for the readers with backgrounds other than literary…