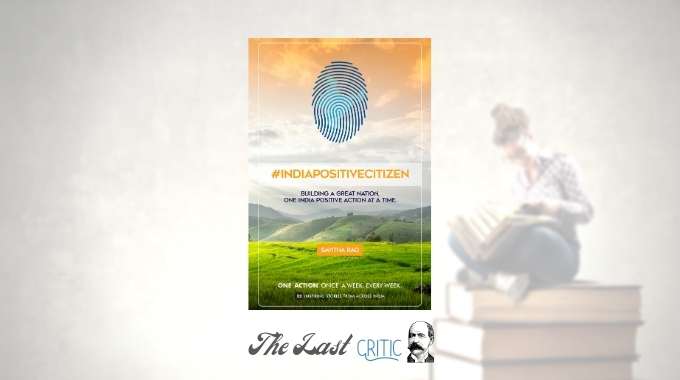 India Positive Citizen: Building a Great Nation, One India Positive Action at a Time: Book Review
There are books that go beyond page numbers and as critics, we have to analyse the idea rather than analysing the writing style, chapter divisions and literary philosophies. Savitha Rao's book, India Positive Citizen, with a subtitle Building a Great Nation, One India Positive Action at a Time, is one title from the category I discussed above. However, like the book's core idea which is extremely wonderful, the book jas been written in a way that it will be equally good to an 11-year-old as someone who has 5-6 grandchildren. The language is simple and the book runs very smoothly… ideas, stories and inspirational extracts appear one by one.
"Like us our soldiers too have families. They choose to live away for months and years to honour their commitment to India."
In chapter 5 of her book, Savitha writes this wonderful description of the commitment of a soldier and this is more than enough for us to honour our brave armed forces, stand by them and also ensure that we create a country which they will proudly defend… Interestingly and rightly so, the book is dedicated to the brave Indian army and also the hero of Galvan valley who sacrificed their lives to defend the country's frontier…
India Positive Citizen is basically a book which inspires the readers to give up denying one's abilities and do their bit for the country. The author tries to fuse motivation, inspiration and positive energy in the readers' thoughts and extract one positive action per week from anyone who reads this book. If you are thinking about what can you do amidst your busy schedule, Savitha has got the solution to your confusion:
"Each one of us has something we can definitely contribute – time, expertise, efforts, money, objects. Every action makes a difference. Every action adds up to a kinder, happier more equitable country."
Yes, it is true. We can do many things with whatever we have. India Positive Citizen is all about being a positive warrior for the nation, bringing changes in your locality and surrounding, doing something for everyone including neighbours, animals in the locality, birds and so on… saving water, saving electricity and buying books for those who need and many other things. Everything counts for something. IN chapter 10, you will find 52 inspirational stories of those people who are India Positive Citizens and their positive actions. One of them is about a person who has been saving water for many years:
"Aabid Surti is an 85-year-old young man with a zeal to save water… In 2007, he launched Drop Dead Foundation after a leaking faucet at a friend's house bothered him so much and caused an epiphany… At the age of 72, most people look at life very differently. But Aabid Surti ventured into a cause that required him to invest his time and efforts as well."
Now Aabid Sutri's individual effort has transformed into a save-water movement and people are participating in large numbers. By this example in the book, one can easily understand that individual actions, of serious and dedicated nature, eventually turn into mass movements and therefore, we must not feel dejected if our efforts don't show immediate impact. There are many stories like this in the book and only a few of them are more than enough to inspire a reader into action mode.
The story of Major DP Singh, a war hero of our brave Indian Army, is doing his bit for the Divyangs after coming out of a near-death experience by the help of spirituality. His story can inspire anyone once they know that Major DP Singh, by his strong desire, after becoming 100% disabled, became the first Indian amputee to run a marathon in 2009 on an artificial leg… and he did not stop there only – he helps divyangs in gaining confidence by participating in sports activities. His foundation, The Challenging Ones, has created a movement.
There are many things one can learn from this book. There are many stories to inspire readers. There are many activities that can be copied from this book and implemented by a reader. However, the author emphasises on making her readers creative in terms of their contribution towards making India a better nation every day. What can you do? What can you think? What new ideas do you have? If you get the paperback edition, you will find many pages at the end of the book to write your pledge, your commitments and your India Positive actions. Are you ready?
You can get a copy of this book from Amazon India in digital or physical format and become an active India positive citizen. Click the link below to get a copy:
Buy the book from Amazon – click here 
Review by a contributor for The Last Critic
India Positive Citizen: Building a Great Nation, One India Positive Action at a Time: Book Review
Summary
This is a book that we recommend for every reader who wants to contribute something towards the betterment of our society. Read it. Learn. Get inspired. Do something. Tell others to do the same.