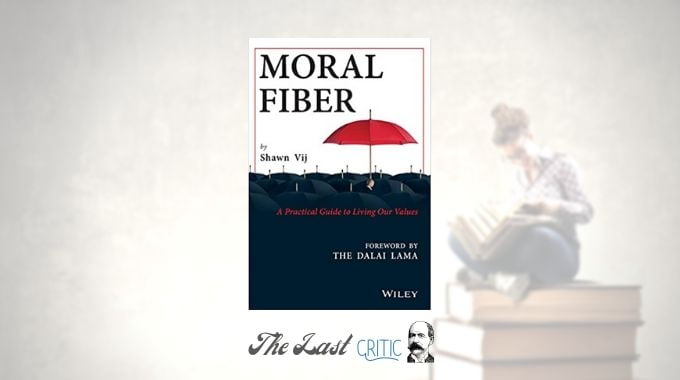 Moral Fiber by Shawn Vij – Book Review
Before getting introduced to Shawn Vij's Moral Fiber, a self-help book in many ways, let's get a brief of the background that is almost behind everyone's existence in the world. I will then review this useful book by Shawn for The Last Critic. Well, one thing needs to be told at the outset that Shawn's book has a foreword by The Dalai Lama!
Crushing our own values and beliefs, we keep chasing our dreams. In this race, we even forget who we are and what we are doing. In fact, whenever such thoughts engulfed us in their grip, we begin to feel suffocated. Instead of confronting them, we try to find out ways to come out of such situations. Because, for us, before our values and ethics, possessions, pleasure and power come first. It has become normal for people to do unethical things for climbing the ladder of success. Would you able to cherish the success at the cost of our own values, principles and beliefs?
Moral Fiber by Shawn Vij is not a book, rather it is a self-help guide that tells you about your enemies, who are like poisons, killing your values slowly but steadily and turn you into an unethical, impassive and cold person. Filled with easy to follow tips and tools, the book helps you save yourself from drowning in the swamp of corpulent society driven desires. The book comprises of 9 chapters. Each chapter contains priceless lessons from the top industry leaders. In addition to this, the book focuses on the philosophy of Buddhism and sayings of Dalai Lama.
Moral Fiber teaches you four important lessons in life. First, it teaches you the importance of ethics and values such as love, compassion, honesty and kindness in life. Because without them life is like a car without a driver. Second, it explains you by staying true to who you are and what you believe you can thrive in business and savour the success. You don't need to imitate others for achieving your goals.  Third, it inculcates a habit of creating a healthy balance between personal and professional life. Without it, you cannot prosper in life. Fourth, it teaches you to look beyond the "mob" mentality and embrace unexplored ways of seeing and doing things. Because it is your values that define you.
Apart from these four lessons, real-life examples from the author's own experiences make the book more engrossing. Also, the forward written by His Holiness the Dalai Lama captures the attention of the readers as it brings more insight into the teachings of Dalai Lama about moral values and ethics. Some of my favourite lines from the book are – It is not our differences that divide us. It is our inability to recognize, accept, and celebrate those differences.
I enjoyed reading this book. It is truly an eye-opener. However, I found it similar to the other books of the same genre. I cannot say that it lacks newness. However, it is not entirely new! Well, I mean who doesn't know that anger, greed and ignorance are the three biggest enemies, or the poisons as the author calls them, of human beings. The three affect us badly, create forced obstacles in life; but only when we allow them to do so. However, the innovative narrative & method that Shawn has used in his book to deliver this message, which we seem to have forgotten, is certainly new. Moreover, the way Shawn has introduced us to the technique of Moral Fiber, that is also more than just new – it is communicating to the audience in the right way so that a reader can understand exactly what the author is trying to convey. I would suggest this book is ideal for every reader who is either seeking a work-life balance in terms of more than just time management or someone who is looking for an ideal life based on values rather than shallow ambitions.
You can get this wonderful book from Amazon India by clicking the link below:
Review by Nidhi for The Last Critic
Moral Fiber by Shawn Vij – Book Review
Summary
Moral Fiber is more for professionals as it teaches mostly about ethics and principles and values at the workplace. However, anyone with an interest in self-improvement can enjoy reading and learn from this book by Shawn Vij.