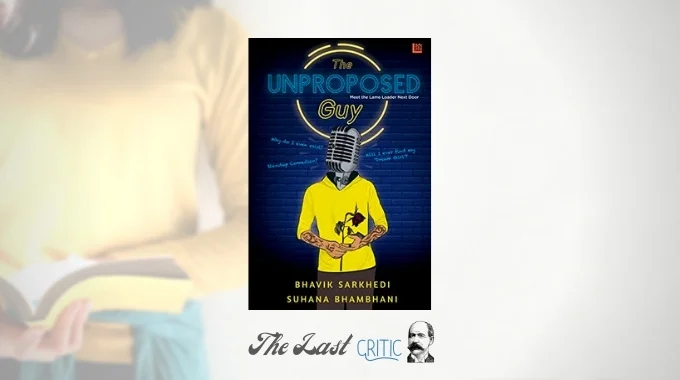 The Unproposed Guy by Suhana Bhambhani and Bhavik Sarkhedi – Book Review
The Unproposed Guy is a novel that offers entertainment, excitement, an engaging storyline and a very finely written, fitting conclusion that will sum up the life story of Kevin to an extent, a guy who realises his truth and lives up to it. In short, Bhavik Sarkhedi and Suhana Bhambhani have written together a novel that brings to the fore not only entertainment for readers but also some genuine and rather peculiar content that will add fodder to the mill of the human mind. What are the features of The Unproposed Guy that make me say so about the novel? I will explain the same in this book review. 
The guy of concern, Kevin, is not only unproposed but also unkissed, unfelt, unthought, unheard and unfocused… for many. Rita denies kissing him and chooses someone else during a game, his crush cannot understand his emotions, a girl he dates for a day cannot understand his genuine love for art and dance… and so forth is the story of his lonely life. Kevin, a guy who is cool and cheered up with his male friends, cannot cope with the company of women. Or women just don't get to know what's inside him. Tragedy! Isn't it? 
There are very few twists in the novel. On the contrary, as a reader, you will be listening to the stories of Kevin's failure in relationships… regularly. However, in those stories of failures, you must be able to find the emotional and true side of Kevin's personality. He does get hurt. He does feel pain. He transforms his emotions and pain into stage performances and makes people laugh – yes, he is a stand-up comedian and loves his profession. Well, there is a story behind his many occupations. You will learn that as you read this novel.   
Many versions of Kevin's story come directly from him in the first-person narrative, adding more authenticity to the novel's realistic representations of modern society and how we have shrunk our circle of empathy. It is a serious issue that the two novelists have tried to raise in The Unproposed Guy. I could have enjoyed it a little more with a narrative that could accommodate readers a little better, a little more and give them the space to fully comprehend the style, how and what is being told. In the form that it has, The Unproposed Guy might sometimes confuse the readers (you might wonder who is speaking and who are the audiences). 
The final twist that awaits you in the novel is fantastic. You will realise that only when you read the novel carefully. Who is Kevin getting married to? Why did he make such a decision? What helped him realise what's 'naturally coming' to him? The novel is about bringing up the best of you, gradually but for sure! Kevin does the same. He contemplates his past, works on his present and shapes his future. 
The novel is about relationships and various aspects of the same. Kevin shares many things about his life and experiences that match with our experiences in life, on many occasions. Managing life with parents, living among friends, getting rejected by people we love or like… and so on. It is a contemporary work of fiction but comes with many peculiar and distinct qualities that compel me to announce this title will be like a detox from the usual novels you might have been reading for a while. Are you ready for it? You decide. 
Get a copy from Amazon India – click here 
Review by Sarthak for The Last Critic
The Unproposed Guy by Suhana Bhambhani and Bhavik Sarkhedi – Book Review
Summary
The Unproposed Guy by Suhana Bhambhani and Bhavik Sarkhedi will detox your reading list! It comes packed with many things you might not expect from a novel today. Are you ready? Just give it a read for a few minutes and then decide…