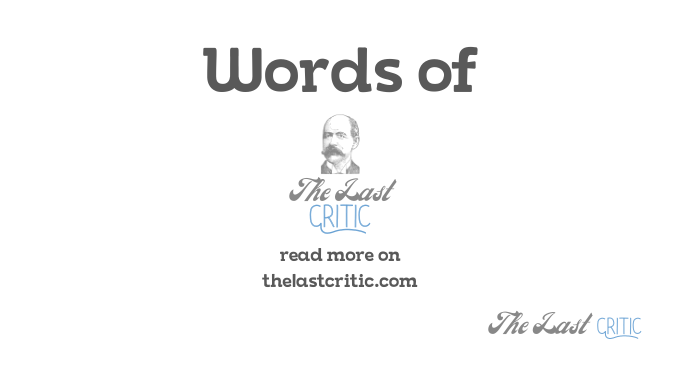 Dear readers, The Last Critic is a platform that will bring up the true meaning of criticism to the fore. It will bring to the readers the sense of value criticism, the essence of apt book reviews and the joy of reading a book – and all of this in a simplified way. Our readers and reviewers are mostly from a literary background and they read something with more than mere interest – a taste and as a test – and so, you can expect to read things that you may never have read before.
[vcex_divider_dots color="#dd3333″ margin_top="10″ margin_bottom="10″]
Why are we here?
We have been observing that many book review websites in India have come to the fore recently. However, most of them are just bringing the so-called pros and cons of a book to the readers. They are not getting into the critical details of the literary piece being evaluated and this is not right. We will do exactly the same; our purpose is reviewing the book with literary measures and you will see how we do it. Moreover, we are also here to opine about various literary and cultural issues.
[vcex_divider_dots color="#dd3333″ margin_top="10″ margin_bottom="10″]
How many readers do we have?
We have a bunch of readers and we aspire to become a larger community in the future. If you love doing book reviews and you have that interest in literature, you are always welcome to join our group. Just drop us an email by getting the address from Contact Us page and we will get back to you soon. Nevertheless, you will never see a dearth of production from our side and we will keep maximising our limits in the near future.
[vcex_divider_dots color="#dd3333″ margin_top="10″ margin_bottom="10″]
What more do we have for our readers?
On usual book review websites, you will seldom find useful elements like best books of the week and the best books of the month series. We will have that with us. Moreover, we will also bring to you the interviews with authors we interact with and there will also be a YouTube Channel which will go hand-in-hand with our website to further widen our visual reach. The Last Critic team is sure that you will love our venture and associate with it in the long-run. See you guys around!
The Last Critic Team