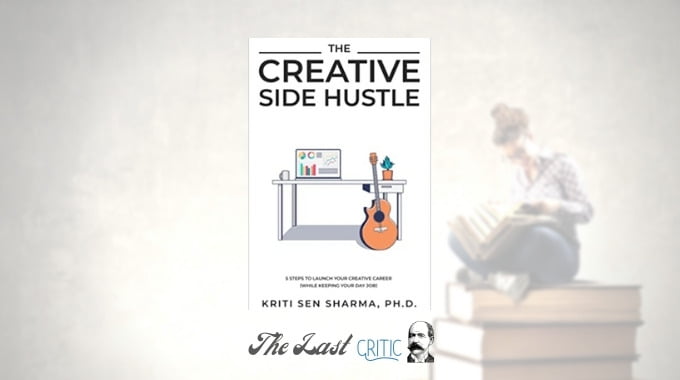 The Creative Side Hustle by Kriti Sen Sharma – book review
The Creative Side Hustle by Kriti Sen Sharma is a motivational book. Well, not motivational in the popular sense that we all know these days. It is a motivational book that entices, inspires, guides you to be creative and pursue what you awaken inside you rather than just dripping it after the first mile because you could not carry it because of your day job! It does not talk about psychological facts of boosting your self-awareness or a certain set of established notions to change your life. This book is written with a purpose to spark the creativity inside you… and, to a great extent, it does so. Practical and short, quick-read… 
Kriti Sen Sharma, who has spent almost a decade in the USA working full time, shares his personal experiences as well as his encounters with motivators, mentors and his own fate. The book tries to make you realise that we all have something special but we have to leave our passion due to life pressure. The author has done a diagnosis of this very tendency. Why do we never come to choose our creativity again even after settling with a good professional career? He has suggested some pragmatic and practical steps to ignite your creativity, once again, in life. And I would say the biggest example that you can know about is Ashwin Sanghi – the famous, bestselling and perhaps the only sensible author who can manage content and style at the same time. 
Once you read the book carefully, you will realise that the biggest problem lies within yourself. The Rancho and Groucho analogy sounds fun and interesting as well as relatable enough. The biggest problem is that we don't start. So, the author has rightly pointed out starting is the first step. If you like writing, painting or photography, you have to start and realise that you are one of them. We become what we believe and what we want to be. It's difficult to balance the professional career and creative side hustle. That's why the author has given a piece of advice at the beginning of the book. You can do these things only if your organisation allows you or you are comfortable in balancing your life.
I like more the practical side of the book. Get a domain, express yourself and your creativity. Get social with FB, Insta, Twitter and other platforms. Express your art and yourself. Start your personal brand. Well, the author is showing the readers a practical path. However, where does it all go? Though Kriti highlights that we leave our passion midway because we associate everything with monetary gain, isn't it better to make a little extra cash with your creativity? And if you think like that, the practical steps in the book sound like investments that you make while the result is largely unknown. That's also a perspective that practical readers will certainly come up with. 
I liked the way the author has given a clear disclaimer at the end of the book and also highlighted the assumptions on which his book is based. Most of the authors do not provide these assumptions and the readers consider the book will help me in every walk of life. The book is only for those who are enjoying a well-settled life and are looking for ways to indulge in creative works.
Creativity comes from the depth of our hearts and it needs a spark to move forward. The most interesting chapter of the book is 'Be Shameless'. Yes, you need to be shameless in order to sell your work. Ultimately, seeling matters the most. 
Well, I will leave it here. I had discussed both sides of the book. You can decide where you stand on this and whether you can make use of this book packed with practical sets of suggestions or not. If you want to get a copy, you can always get it from Amazon India by clicking the link below: 
Buy the book – click here to get a copy now
Review by Ashish Mishra for The Last Critic
The Creative Side Hustle by Kriti Sen Sharma – book review
Summary
The Creative Side Hustle by Kriti Sen Sharma is a motivational book for those who seek to elicit their creativity out of the time that they get after a full-day job… Rated it high for the honesty of the author, simple narrative and exactly the number of pages one would need to put these things out…