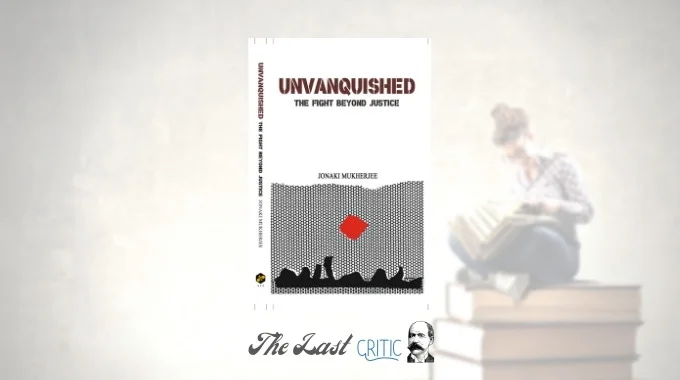 Unvanquished: The Fight Beyond Justice by Dr Jonaki Mukherjee – Book Review
Unvanquished means someone victorious; someone who cannot be subdued. And fight beyond justice signifies the machinery that, apart from laws and judicial system, administration and government institutions, work for the overall growth, health and peace of the society we stay in. This is the new book, Unvanquished: The Fight Beyond Justice, which I have come across while I was checking books on feminism. I picked it up after reading about the author and the description of the book on the Internet. The author, Dr. Jonaki Mukherjee, has narrated ten real-life stories of women's struggles in her book. All the stories are tied with a common thread of prejudice, misogyny, oppression and exploitation of women. However, every story ends with a new dawn.
What do I mean by the new dawn here? A new dawn that brings new light, new colours, new hopes and new goals in your life. In her stories, Dr. Jonaki no doubt describes the misery, agony and tortures of women of different age groups and backgrounds. But, at the same time, every story paints the journey of women's freedom too. In the section where Dr. Jonaki writes her comments on the story, you will find quite revealing opinions and observations. The short stories in the book are about the suffering and subjugation of women and then their resistance to the same, and finally settling with resolution and a new beginning. Thus, this book shows the weak as well as strong side of women. Women who were once unable to stand on their own feet (maybe out of fear of society or maybe because of lack of awareness of their own Shakti), stood up on their feet and roared like a lioness for their rights. And eventually, with all these elements, Dr. Jonaki's book creates a different place for itself among other books of this genre. Unvanquished: The Fight Beyond Justice also sums up where we stand as a society – broken and fragmented, callous and careless, immune and oblivious about women's issues… though there are people who come forward to lend helping hands, that is a very minuscule lot. And there are improvements too, no doubt. However, the improvement will take time to reach the far corners of the country. 
The book voices the unheard stories of the entire community regarding all the types of domestic violence – physical, emotional, sexual, financial, and psychological. After reading each story, I was stunned and surprised. Rather shocked, if I want to define the emotion in a more close-to-experience way. I was in a deep shock. How men could be so heartless? Is there no limit to their shamelessness? And here we talk about women's empowerment. How ridiculous is it? However, what gives relief to my soul is the way stories in the book motivate women to fight for their respect, independence, and rights. They also explain the machinery and systems that are active in society for the help of victims. And knowing the author's dedication, efforts and willingness to help these women, filled my heart with a sense of gratitude towards her. The author has truly inspired me.
The author has not only narrated the stories, but she has filled them with hues and tints of various emotions. Her words are apt and strong. Her language and style of writing make it easy for the readers to get going with the flow of the story. She has been simple throughout. But, her simplicity exhibits the power of her storytelling. I loved this book from start to end. It will always be with me, along with the other books that I admire the most.
You can also get introduced to the brave women who suffered a lot at the hands of their circumstances. Not only that but you can also get inspired by their courageous fight back and victory over the situations and nuisance in their lives. You can get a copy of the book from Amazon India by clicking the link below: 
Buy a copy now – click here for Amazon India Link
Review by Alka for The Last Critic
Unvanquished: The Fight Beyond Justice by Dr Jonaki Mukherjee – Book Review
Summary
Unvanquished: The Fight Beyond Justice by Dr Jonaki Mukherjee is a collection of 10 powerful short stories that depict the pain and suffering of women… and their resolve to come out of the penury with full power and determination.