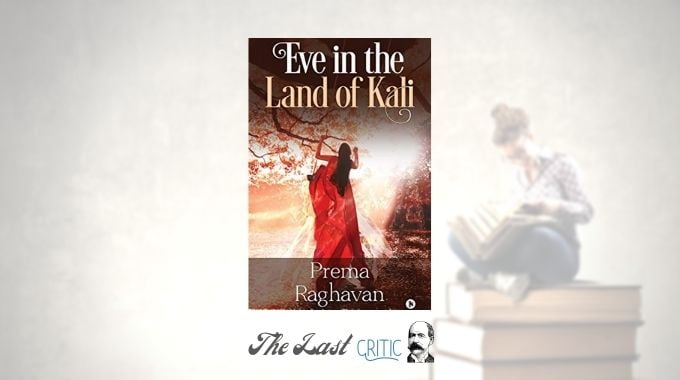 Eve in the Land of Kali by Prema Raghavan – Book Review
Readers, once again I am here with yet another review! However, this time, things are different. I am not going to review a novel as I usually do. It's neither a poetry collection. This is, surprisingly enough, a collection of wonderful short stories written by Dr Prema Raghavan – Eve in the Land of Kali. The title, the very title, begins all the waves of curiosity inside you, doesn't it? So, let's get it rolling!
But before taking you to the tour of what this book is all about, this time too, I have some questions for you. I am sure, this ongoing pandemic has provided you with an immense opportunity you to take out long-resting books from your library and flip through their pages. You may have finished reading several books of different genres like romantic fiction,  horror, self-help, non-fiction, and so on. Have you come across through a book which talks about some real challenges faced by ordinary people? A book which, instead of taking you to its own fictional world, makes you relive some of your own experiences? A book that resembles you and with your emotions? There is a huge probability that you will nod your head in a No. This one, the book I will be reviewing right now, does the same. It throws some of the instances, circumstances, problems and solutions right towards you and you are compelled to react… women protagonists in all these short stories make things emotional, real, sentimental and even curious… 
The book Eve in the Land of Kali, written by Dr Prema Raghavan, Prof. of English Literature, is a must read, if you are looking for a short review 🙂
This book is a collection of twelve short stories which portray the day-to-day shades and tints of the lives of common people just like you and me. And, trust me, this depiction of ordinary lives distinguishes Eve in the Land of Kali from other books of modern time. Each story by the author has something which quickly grabs your attention and as you go on, without even your knowledge, you will slip into a familiar world which now lay in your memory. Be it the predicament of Madhavi or confusions of Sahana or worries of Mridula… you may even try to side with one of the characters in a story but, quickly enough, the author compels you to rethink your decision and change sides. The short stories come packed with too much of a thing called 'fine literary balance' and you may not be sure about one being right and another being wrong. This is, dear readers, the beauty created with words… pen of the author! And for that, one has to admit the mastery over the craft of the fiction by Prema Raghavan. Though this is surely her debut fiction, she has done more than just good… And plausibly, you may come back either with a grin on your face or your eyes filled with water. 
Life in any story is with its characters and the characters of all the twelve stories are sensibly brought to life. Vibrant and colourful! Moreover, you may also look around yourself to find the characters mentioned in the stories… and, not surprisingly enough, you may find some reflections as well! As the title of the book hints, the central characters of the stories are girls or women. There are a couple of stories in which two female characters together play lead roles. Despite protagonists are girls or women, Eve in the Land of Kali is much more about human relations, values and emotions… nevertheless, certainly from a female perspective.
How can a review be finished without discussing language in which any book is written? It becomes essential when it is scripted by a Prof. of English Literature. After all, it's the language that fills rhythm in a story. Eve in the Land of Kali is flawlessly written without a doubt. Dr Prema has beautifully adorned narratives in her distinctive dramatic style which strikes the readers. Like a craftsman delicately carves a sandstone, emotions are gracefully carved through impressive vocabulary. It's a flow that seldom ceases to flow…
To conclude this review, Eve in the Land of is a wonderful treat you can give to your reading-self. It is one of the rarest short story collections, written by a contemporary Indian author, that would remind you of some of the famous short story writers like Thomas Hardy, Maxim Gorky, Chekhov, etc for so many obvious reasons that you will discover once you read these stories. A MUST-READ!
You can buy a copy of this book from Amazon India by clicking the link below:
Buy the book – click here to buy now (Amazon) 
Review by Parakashtha for The Last Critic
Eve in the Land of Kali by Prema Raghavan – Book Review
Summary
Unmissable… a collection of short stories that you must read to enjoy the luxury of reading twisted tales of emotions, human relations and feminist ambitions in a flowery language that you seldom get these days… a textual treat to your reading hours!