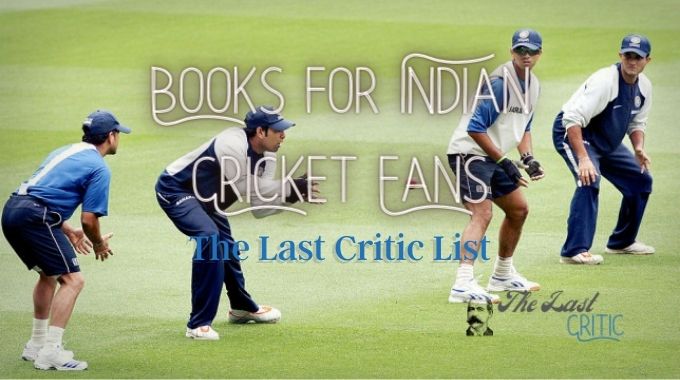 5 Books every Indian cricket fan should read – a list
Cricket, without a doubt, is the most popular game in India. Since 1983, the year when India won the world cup, youths have been indulged in this sports and what was remaining, the gap between cricket and its lovers has been eliminated by the IPL – cricket in a fast-forward mode. Though most of the Indians can do at least one of the main three activities of this sports, batting, bowling or keeping, there are the lovers of this game who love to watch it from that side of the boundary line. I call them the fans of cricket who love observing the excitement of the game from the outside. Though I did enjoy playing cricket for many years, I will still call myself one of those fans who devote a big part of their life in watching cricket, talking cricket and living cricket. For such lovers of cricket, here are the books that they must not miss. These books will help them relive those moments of joy, excitement and rush. The links to buy the books are added.
Playing it My Way: My Autobiography by Sachin Tendulkar: Who doesn't know Sachin? Moreover, for anyone who knows even the ABC of cricket, Sachin Tendulkar is not a demigod but a God, a God in full glory! Sachin's book, his autobiography, published back in 2014, is one of the bestselling books written by any sportsperson and broke many records before its launch as well as post the launch of this much-awaited autobiography. In this book, co-authored with Boria Majumdar, Sachin has relived many of his memorable movements in life, on and off the field. Hardcore fans of Sachin might find this book just an extension in words to the visual memories that they might already have in their hearts. However, for most of the readers, the book will be like walking into the realm of God Tendulkar once again, from the first day to the last… a little of his personal life and too much of his cricketing years. Are you ready? Get a copy from Amazon India now. Click the link below:
Buy the book from Amazon – click here 

Sunny Days: Sunil Gavaskar's Own Story by Sunil Gavaskar: How did India give the world one of the best cricketing icons? How did a test batsman emerge on the horizon of world cricket? How did a man, as little as 5'4, become the first batsman to score 10,000 runs in test cricket? If you an Indian cricket fan, you cannot keep yourself away from this wonderful book written by the little master himself – Sunny Days. Grab a copy of this book published in 1976 and you will be transported back to those days of cricket without today's safety and today's punishing bowling conditions – those days, bowlers did not have to think about many restrictions that we see today. So, just get a copy and enjoy the Sunny Days… Buy the book from Amazon by clicking the link below:
Sunny Days from Amazon India – click here to buy
A Century is not Enough: My Roller-coaster Ride to Success by Saurav Ganguly: Dada… anyone who is from those days of 90s should know what contribution Dada has made to the sports of cricket in India. Saurav Ganguli is one name that will reverberate in the minds and hearts of Indians and any other countries' population that loves cricket. In this book, co-authored with Gautam Bhattacharya, Dada reflects upon his cricketing years and also shares his off-field experiences with people, family, friends and his colleagues. You will certainly love the way he has expressed things in this book. Whether you are a staunch Dada fan or not, you cannot ignore this book for many reasons. Pick your copy now:
Buy the book by Dada – click here to buy from Amazon India 

A Biography of Rahul Dravid by Devendra Prabhudesai: Well, you might not like certain things in this book as a few readers have highlighted – the book does not cover too much of the aspects of Rahul Dravid's life that one might have ideally done while writing a biography. However, who might not want to revisit the years of The Wall, a person who could hold the Indian hopes alone, without wavering or faltering even a bit… Rahul Dravid's career has been an exemplary one and so is his personality on and off the field. However, the could have done justice to his persona by adding a little more about the person that he is, fans might be interested more in knowing that side of his life as well. Moreover, with his achievements with younger players, the book does need to be updated and Rupa Publications might do a favour by updating the book with a few more chapters. Still, for those who want to know about an extraordinary batsman that Dravid was, just get a copy and suit yourself! Click the link to Amazon India below to buy the book:
Buy it here – click to buy from Amazon

281 and Beyond by VVS Laxman: Tell me I am wrong and deny that we all, the cricket lovers from the years of the legendary 90s, did not think it to be Very Very Special Laxman! Our hero – the man who rescued Indian cricket team on many occasions on foreign souls as well as on Indian and who can forget the knock, those 281 runs on Eden Gardens… Laxman has an eternal place for himself on the scorecards as well as in the hearts of millions of cricket fans in India, and the world. He was known as a stylish batsman, he is well-known as a person who speaks less and tries to reply with his witty language and humour. All those cricket fans in India have the chance to relive those moments of Brilliance on the field in this book co-authored by Laxman and R Kaushik. Are you ready? Get a copy from Amazon India now and read Laxman's own chapters.
Buy the book from Amazon – click here
So, friends, this was The Last Critic's list for the day and I am sure it will be useful for the cricket fans in India. Do let me know your thoughts. I will bring more lists like this in the coming days. Happy reading!
By a contributor for The Last Critic