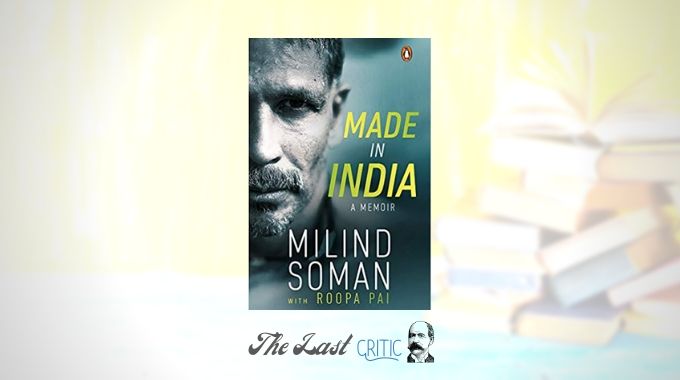 Made in India: A Memoir | Book Review
Milind Soman's autobiographical book, deemed as a memoir, Made in India: A Memoir, came into buzz because of one certain reason. He spoke about it in some news channels and many critical readers in the country wanted to know about this new book and were certainly interested in reviews that this book might receive from the book bloggers in India. Well, many of them might have been disappointed because the book could not get the eyeballs as it was expected to get, at least after the 'episode'. However, the book certainly got success in impressing all those or at least many of those who read the book. I am sharing my impressions, experience and book review here. On the outset, let me make it clear that the book does not add to the ongoing culture of Indian English literature. However, it does stand out because of its quality of serving the purpose for which it has exactly been written.
When I began to read the book, initial lines cited the demise of Benjamin, Milind's pet – a rabbit. I was startled! What a distinct way to commence a memoir, isn't it? Was it used as a metaphor? I guess yes because it was more than a loss for Milind. The incident impacted him hard and left behind a lesson for him to learn that nothing lasts forever. The book is not less than a journey!  From England to Shivaji Park to Ironman Triathlon too. It gradually put forth different facets of Milind's life, which give a lot of insight for every fitness enthusiasts, aspiring models, fervent swimmers and runners, and young entrepreneurs.
Made in India: A Memoir, co-authored by Roopa Pai, catches the readers' attention in two ways with its two distinctive timelines that go parallel and links yesteryears experiences with the present-day positives. Wherein the present -time storyline chronicles Soman's journey to becoming a marathon runner at the age of 43. Indexing of this Memoir too briefly gives prevue of it. The narratives bustle with energy and honesty on how assiduously Soman trained himself, both on and off camera, initially for half-marathon and then for this 42.5-kilometre long dream of his life. How was the scenery around? What he felt and realizes during this long run? Why does he run? All these answers certainly inspire the readers to be active, fit and enjoy every moment of life.
The past-time storyline lets you turn the unread pages of Milind's personality and allows you to look into the days of his childhood; his time spent at a Rashtriya Swayamsevak Sangh centre as a youngster, just as several other boys in his Shivaji Park neighbourhood in Mumbai; his first national-level medal as a swimmer which he won at the age of ten; his years as a supermodel and a television heartthrob in the late 1990s, his unforgettable life-controversies and many more…It also highlights tragedies of Milind's life, how he dealt with them and how eventually he learnt some or other things from each of those experiences, whether good or bad, small or big.
The book has many important and cryptic facts about multi-faceted Milind, his wide sprawled career as a swimmer, runner, model, actor, an entrepreneur and a motivational speaker. Nevertheless, Milind might have missed the chance that was there. When you read the book, you suddenly realise that there is enough scope of bringing Milind's personal life, his friends and his relationship in light that helped him move energetically even in odds of life and positively shape his life. Particularly about his mother who always pushed, inspired, and admires him. This missing part, critically thinking, could have added further light to the book.
Milind, as an author has succeeded, in magnificently revealing and elaborating vivid shades of his life, including the reasons behind missing out on the 1986 Asian Games team, assorted in the two timelines and two storylines for the readers. He had some misses and more hits. Though we cannot expect a lot from him as he is not a full-time author, he has excelled whatever expectations I had from his writings and I applaud the author for this. Made in India: A Memoir is a hit for me and I would love to recommend it to the readers who want to know more about Milind. You will enjoy the book… you can get a copy from Amazon India by clicking the link below:
Buy the book – Click here to buy from Amazon India
Book Review by Nidhi Parikh for The Last Critic
Made in India: A Memoir | Book Review
Summary
Made in India: A Memoir is a memoir, half-autobiography by Milind Soman. It states an ongoing marathon and also highlights the wonderful experiences that Milind had in his life in England, India and as a model in his career.